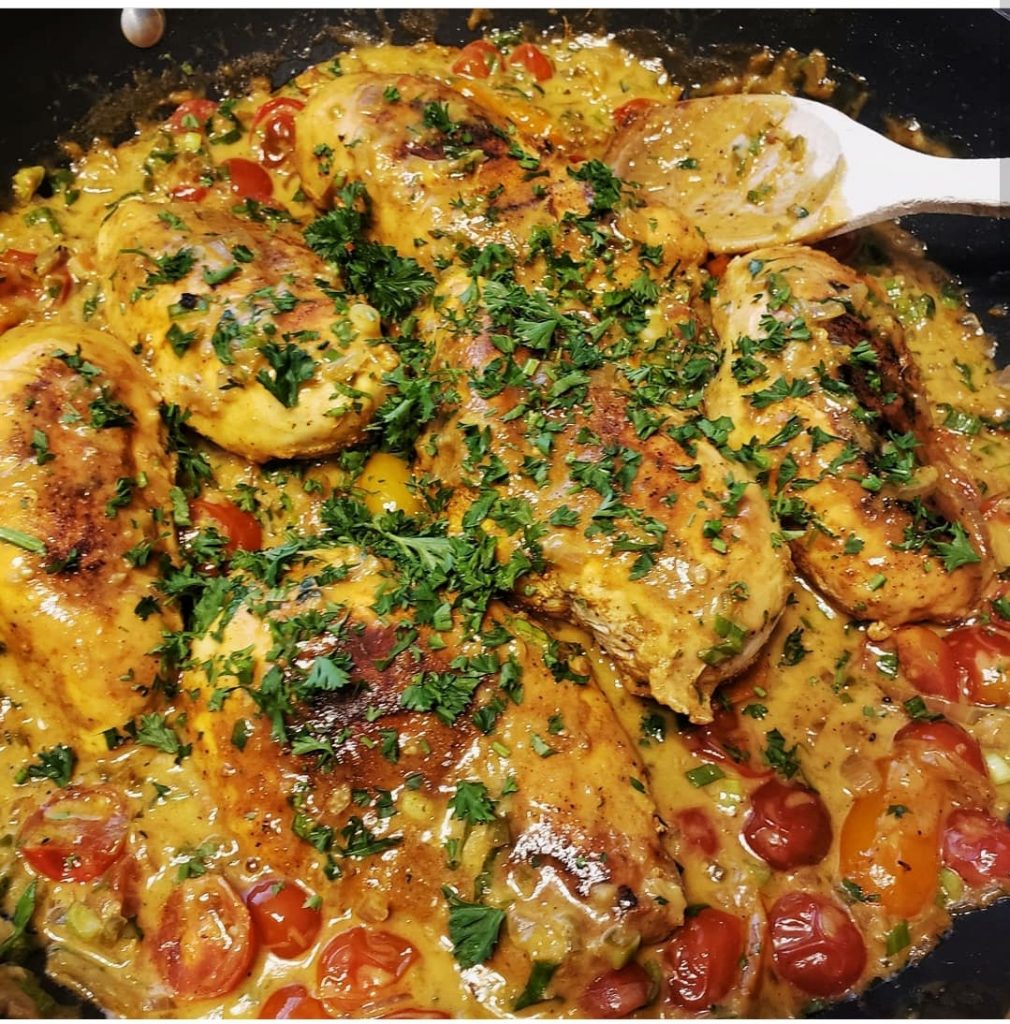 This fragrant, tender chicken is served in a creamy coconut jalapeno sauce and it will become a lively regular on your menu. You get a good heat from the moist chicken, and a sweet heat from the gingery, jalapeno, coconut sauce. Cherry tomatoes and lime juice cut through the creaminess of the coconut milk, providing an acidic balance. You may want to double the batch of the sauce…. it's that good.
Print
Spicy Brazilian Chicken with Coconut Sauce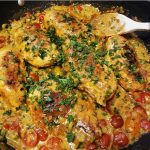 Creamy coconut and jalapeno sauce served over chicken.
Scale
Ingredients
For the chicken:
1 teaspoon coriander
1 ½ teaspoons cayenne pepper
1 teaspoon cumin
1 teaspoon turmeric
½ teaspoon onion powder
½ teaspoon garlic powder
Kosher salt and black pepper
4 boneless, skinless chicken breasts
3 tablespoons olive oil
For the sauce:
3 tablespoons olive oil
1 onion, diced
2 jalapeno peppers, minced
4 cloves garlic, minced
2 – 2 ½" fresh ginger, grated
Kosher salt and black pepper
2 cups cherry or grape tomatoes, cut in half through the stem
1 lime, zested and juiced
1 14oz can coconut milk
½ bunch parsley, chopped
½ bunch cilantro, chopped
Instructions
In a bowl, combine the coriander, cayenne pepper, cumin, turmeric, onion powder, garlic powder, salt
and pepper. Whisk to incorporate. Place the chicken in the bowl and rub the mixture all over the
chicken, making sure its well coated. Heat olive oil in a large saute pan, preferably one with a lid, over
medium high heat. Add the chicken and sear on both sides, so it is nicely browned. Reduce the heat,
add ¼ – ½ cup water, and cook the chicken for an additional 5-8 minutes on each side; covering it while it
cooks to retain the moisture. Check the temperature and remove when it reaches 165F. Cover it with
foil.
Add the additional olive oil to the pan, and add the onion, jalapenos, garlic, and fresh ginger; cooking
until they are soft and translucent, and the garlic is fragrant. Season with salt and pepper. Add the
cherry tomatoes, lime zest, and juice; and cook until the tomatoes burst and/or soften. Add the coconut
milk and simmer until it thickens, 3-5 minutes.
Add the chicken back into the sauce and top with chopped parsley and cilantro. Serve over rice, with a
large scoop of the sauce. YUM!!