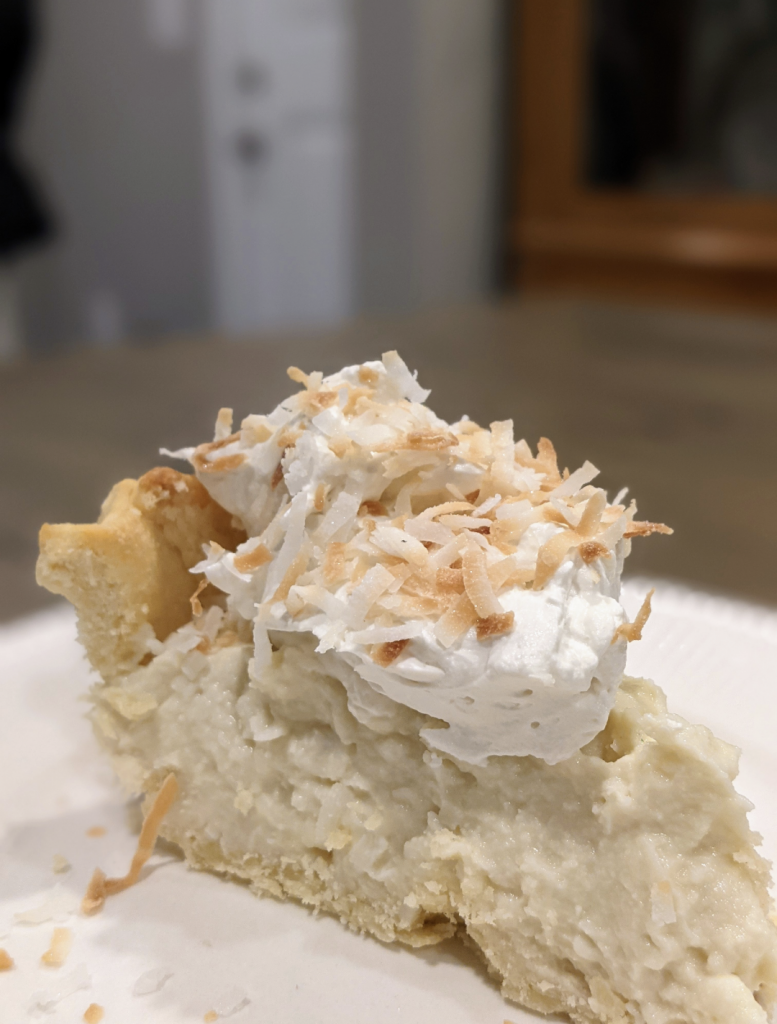 "Happy pie" is a tradition that started years ago in our family. We call it "happy pie" because it's served on someone's birthday!
This coconut cream pie was recently chosen by one of my daughters for her birthday celebration, and I was so thrilled with how much everyone enjoyed this recipe! The entire happy pie was devoured within minutes. And the best part? It's super easy!
Print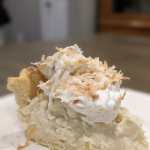 Coconut Cream Pie
---
Description
Creamy coconut filling on top of a delicious, homemade pie crust.
---
Scale
Ingredients
Pie Crust:
¾ cup Crisco
¾ cup butter, cold, cut into cubes
3 cups flour
1 egg, lightly beaten
5 tablespoons cold water
1 tablespoon white vinegar
1 teaspoon salt
Pie Filling:
16oz coconut milk
2 cups heavy cream (or to equal 3 cups total)
3 eggs
¾ cup sugar
¼ cup + 2 tablespoons coconut flour
1 tablespoon cornstarch
Pinch salt
2 teaspoons vanilla
1 cup coconut
Toasted Coconut topping:
½ cup coconut
---
Instructions
Pie Crust:
In a food processor, combine the Crisco, butter, and flour, and pulse until it resembles coarse crumbs.
Mix the egg with the cold water, vinegar, and salt. Add to the food processor, and process until it comes
together. Divide in 2 balls. Press into a disc and chill.
When ready, preheat oven to 425*. Roll out the dough and place in the bottom of the pie plate. Prick
holes with a fork. Put tin foil over the dough and add some beans or rice to keep the dough down. Bake
for 12-15 minutes or until light golden in color. Remove and cool completely.
In a liquid measuring container, pour in the coconut milk; and whisk. Add the heavy cream so that it
equals 3 cups total. Add the eggs to the milk mixture and whisk to combine. Pour the mixture into a
deep saute pan, or saucier pan; with the stove turned OFF. Add the sugar, coconut flour, cornstarch,
and salt and whisk, until well combined. Turn the heat on, to a medium low heat, and bring to a boil,
stirring constantly. Cook, stirring constantly, for 2 minutes more. Remove the pan from the heat, and
stir in the vanilla and the 1 cup of coconut. Pour into cooled pie shell and chill until firm. About 4
hours. Top with whipped cream and toasted coconut.
Toasted Coconut Topping:
Spread coconut on a baking sheet and bake at 350 stirring it occasionally until golden – about 5 minutes.