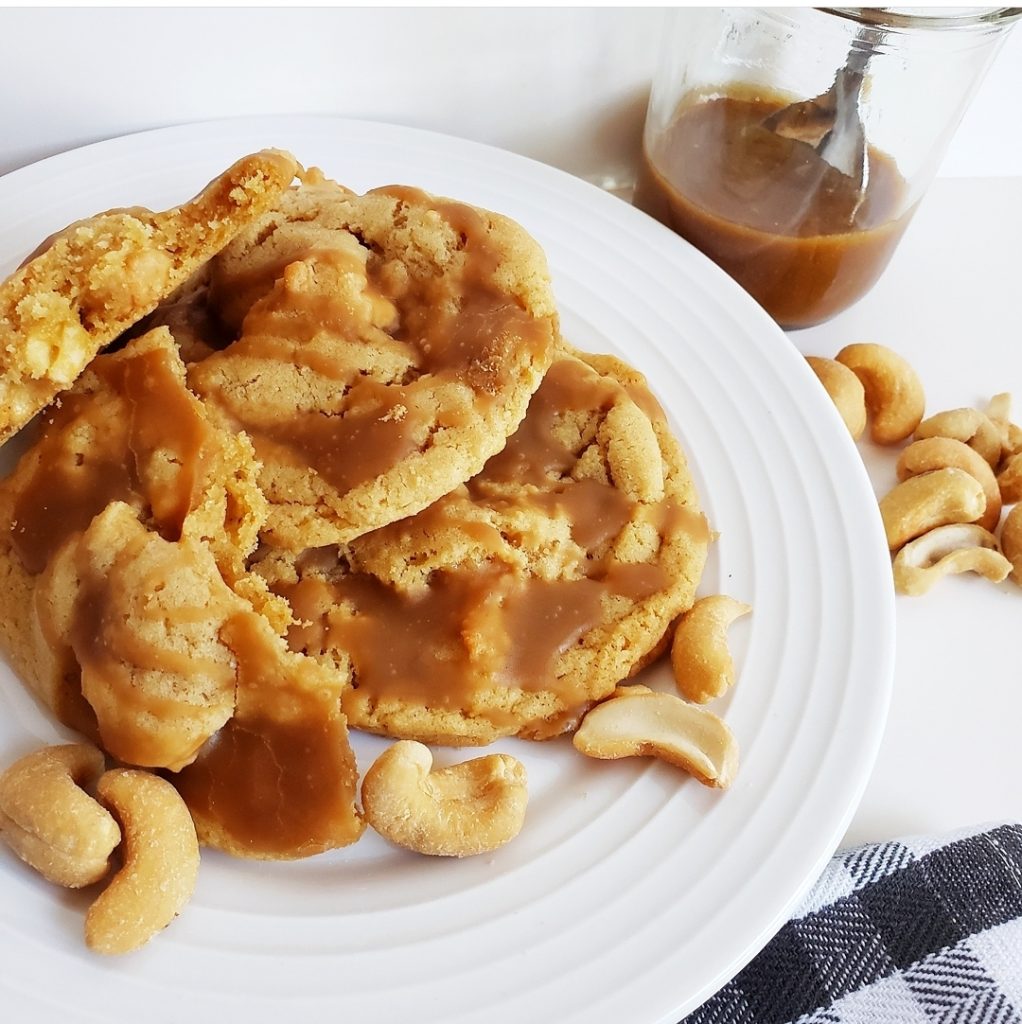 Print
Caramel Cashew Cookies
I have always loved Caramel and Cashews together.  The creamy, salty cashew pairs with the buttery richness of the caramel, in utter perfection.  Oh, I am a sucker for it.  So, I thought, why not turn it into a cookie????  And bam!  This is a delicate, tender cookie, filled with cashews, and topped with gooey, homemade caramel.  You will want to make 2 batches……………just saying.
Scale
Ingredients
For the Cookies:
1 cup butter, softened
1 cup brown sugar
¾ cup sugar
2 eggs
1 T vanilla
2 ¾ cups flour
¼ cornstarch
1 t baking soda
1 t baking powder
1 t salt
1 ½ cups cashews
Instructions
For the Cookies:
Preheat oven to 350*.Cream butter, brown sugar, and sugar together.Add eggs, one at a time, until light and fluffy.Mix in vanilla.
In a separate bowl, sift the flour, cornstarch, baking soda, baking powder, and salt.Add the dry ingredients to the butter/sugar mixture and mix until combined.Fold in the cashews.
Drop onto a parchment lined baking sheet.Bake for 10 minutes.Remove and cool completely.Drizzle with the caramel sauce.  Recipe below.
Homemade Caramel Sauce
½ cup butter
1 cup brown sugar
3 T karo syrup
3/4 cup heavy cream
1 t kosher salt
Heat butter and brown sugar in a sauce pan, until the butter melts and the sugar is completely dissolved.  Add in the karo syrup and continue cooking until well combined and bubbling.  Add in the cream and salt.  Stir quickly, as it will bubble up rapidly.  Remove and set aside – it will thicken as it cools.