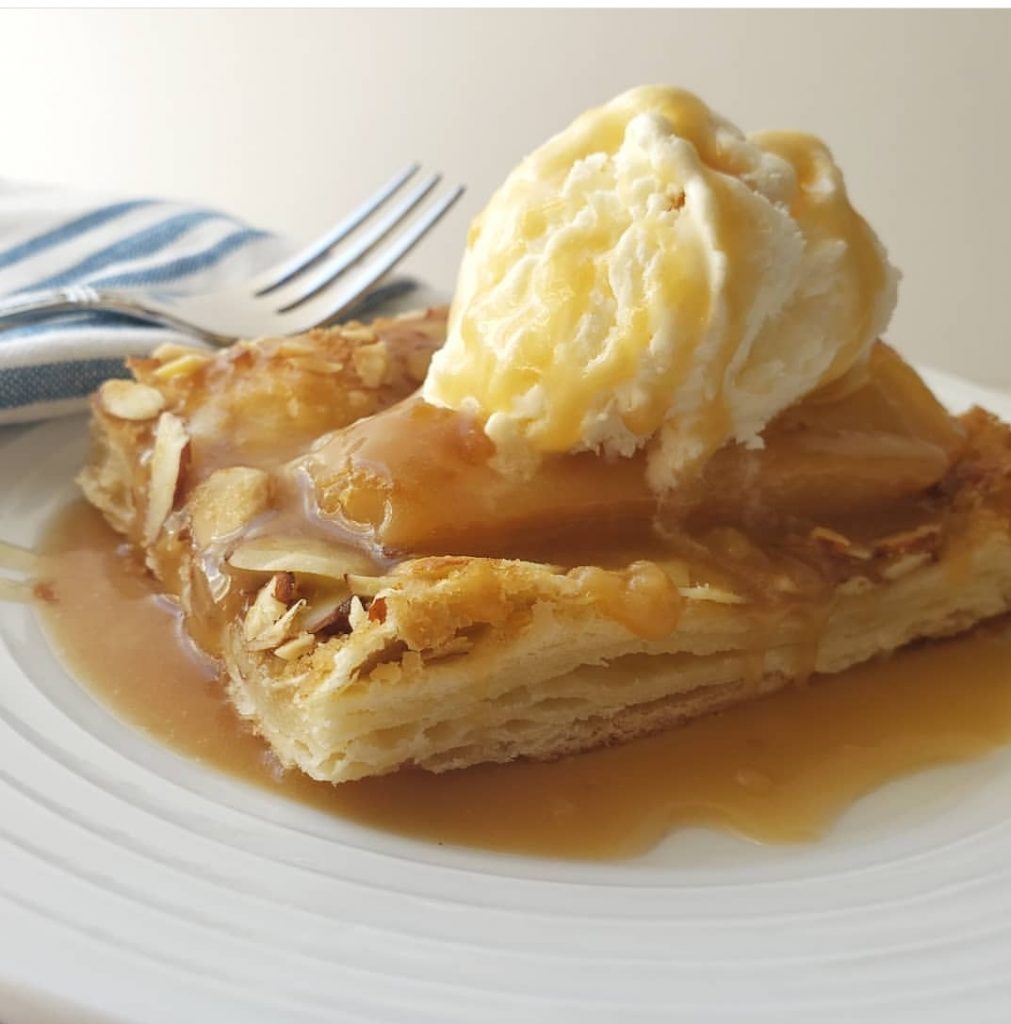 Print
Poached Pear Tart with Caramel Glaze
This dessert is decadent.  This dessert is comforting.  This dessert is restaurant worthy.  This dessert makes you want seconds and thirds…………..AND, this dessert is worth every calorie!
Flaky, tender, puff pastry (yes, you can make your own!); topped with an almond crumble, and then a pear half, that has been poached in white wine, lemon, vanilla, honey, and brown sugar.  Finished with a caramel glaze, made from the reduced poaching liquid.  It is absolutely divine!
Scale
Ingredients
1 Short Cut Puff Pastry, recipe below
6 bosc pears
1 ½ cup white wine, I used Sauvignon Blanc
2 teaspoons vanilla
2 tablespoons honey
1 lemon, juiced
½ cup brown sugar
1 cup water
Pinch of salt
½ cup sliced almonds
2 tablespoons brown sugar
1 tablespoons flour
1 ½ sticks of butter
1 ½ cups brown sugar
2 tablespoons honey
2 teaspoons vanilla
1 cup heavy cream
½ lemon, juiced
Vanilla ice cream, for serving
Instructions
Prepare the short cut puff pastry, and have chilling, ready to roll out.
Peel the pears and place in a large pot.  Add the wine, vanilla, honey, lemon juice, brown sugar, water, and pinch of salt.  Bring to a boil, then reduce to simmer.  Simmer for 25 minutes, turning the pears once in the liquid, until the pears have become tender.  Remove and set aside.
Preheat the oven to 400*.  Roll out the puff pastry into a 16×12 inch rectangle.  Poke holes with a fork so it puffs evenly.  In a small bowl, combine the sliced almonds, 2 T brown sugar, and 1 T flour.  Sprinkle all over the top of the pastry.  Remove the pears from the cooking liquid, KEEPING the liquid.  Cut each pear in half.  Remove the stem and cut off the bottom.  With a melon baller, cut out the core and remove the stringy part that is attached.  Lay the pears end to end, 3 across and 4 lengthwise. 
Bake for 20 minutes, then reduce the oven temperature to 350* and continue baking for another 45 minutes, or until the pastry is golden brown and cooked through. 
Meanwhile, bring the reserved cooking liquid to a boil and continue boiling until reduced by at least half.  It should thicken slightly.  Add the 1 ½ sticks of butter, 1 ½ cups of brown sugar, 2 T honey, and 2 t vanilla, and bring to a boil.  Boil until it thickens, then reduce and add the heavy cream and lemon juice.  Continue simmering for a few minutes.  It won't be as think as a traditional caramel, it will be a runny caramel. 
Cut the tart in squares so each pear is on its' own square.  Top with vanilla ice cream and drizzle with the caramel sauce. 
Short Cut Puff Pastry:
2 ½ cups flour
2 tablespoons sugar
1 ½ teaspoons kosher salt
2 ½ sticks very cold butter (freeze the butter for 15 minutes before using)
8 tablespoons ice water
Combine flour, sugar, and salt in a large bowl.   Remove the butter from the freezer and use a box grater to grate the butter.  Add it to the dry mixture and with your fingers, incorporate the flour mixture and butter together until is looks like small peas.  You want to really work the fat into the dry ingredients.  Slowly pour in the ice cold water and stir with a fork until it comes together, then use your hands to work it into a dough.  Knead the dough a couple of times, then turn it out onto a floured surface and form it into a 6 or 7 inch square.  Put it onto plastic wrap, covering it tightly, and pressing the dough so it flattens into a nice square.  Chill it for at least 2 hours.
After the 2 hours, remove the dough and let it sit for a few minutes.  Flour your rolling surface and roll the dough into a long rectangle, about a ¼" thick.  Fold into thirds, like a letter, and turn 90*.  Roll again into a long rectangle, making sure to keep the rectangle shape.  Fold again into thirds, like a letter, and turn another 90* again.  Keep flouring your surface as needed to keep the dough from sticking; and continue with the process at least 5 times.  This is giving you the flaky layers you want in your puff pastry.  Wrap with the plastic wrap again and chill for at least 30 minutes before using.
When ready to use, let it sit again for about 5 minutes before rolling out on a floured surface.