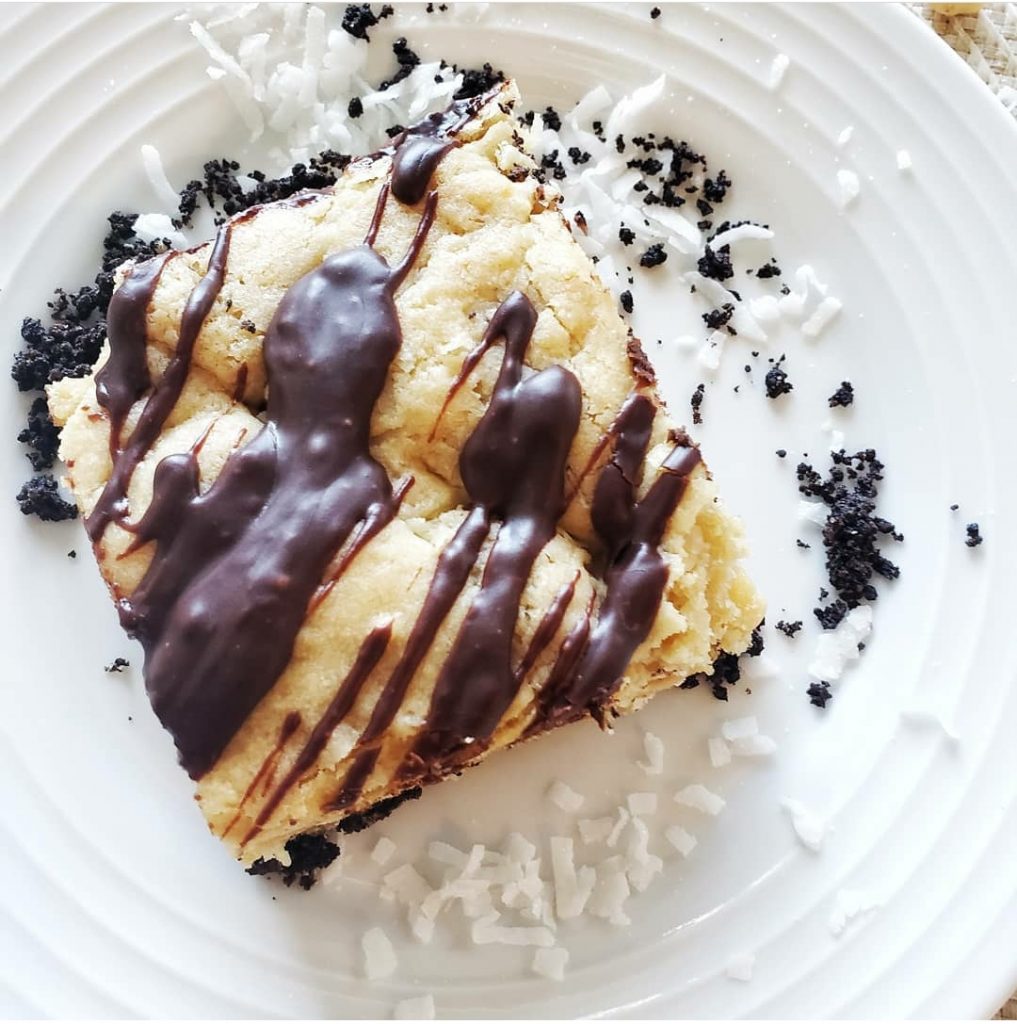 Think hula pie…. but in cookie form! Oreo crust with a macadamia coconut cookie layer, and topped with chocolate ganache. So easy to make and soooo delicious!
Print
Hula Cookie Bars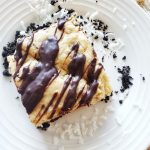 Oreo crust with a macadamia coconut cookie layer, and topped with chocolate ganache.
Scale
Ingredients
For the crust:
36 Oreo cookies, crushed or put through the food processor
¼ cup butter, melted
For the cookie:
1 cup butter
1 cup brown sugar
2/3 cup sweetened condensed milk
1 egg
2 teaspoons vanilla
½ teaspoon coconut extract
2 ¾ cups + 2 tablespoons flour
3 teaspoons baking powder
1 teaspoons baking soda
2 tablespoons cornstarch
1 teaspoon salt
1 ½ cups macadamia nuts, semi-crushed
1 cup sweet coconut flakes
For the chocolate drizzle:
2/3 cup Semi-sweet chocolate chips
2 tablespoons Butter
2 tablespoons hot water
½ cup Heavy cream
Instructions
Preheat oven to 350F. Combine the crushed cookies and the melted butter, stirring well to combine.
Press into the bottom of a 9×13 baking pan.
In a stand mixer, combine the butter, brown sugar, and sweetened condensed milk. Beat until light and
fluffy. Add the egg, vanilla, and coconut extracts; and mix well to combine. In a separate bowl, sift
together the flour, baking powder, baking soda, cornstarch, and salt. Add the flour mixture to the butter
mixture and blend on low speed; just until it's combined. Add the macadamia nuts and coconut and mix
again on low. This is a cookie dough consistency, so drop by spoonfuls over the oreo crust and spread it
gently with a spoon to cover completely.
Bake for 20 minutes. Remove and set aside to cool completely.
Put the chocolate chips, butter, and hot water in a glass measuring container and microwave for 20
second intervals, just until the chocolate melts. Add in the heavy cream, and stir well until you have a
smooth consistency. Let it cool slightly. Using a fork, dip it into the chocolate and hold it above the pan.
Quickly go back and forth over the cookie bars, letting the chocolate drizzle over them. Top with
additional coconut, if desired.