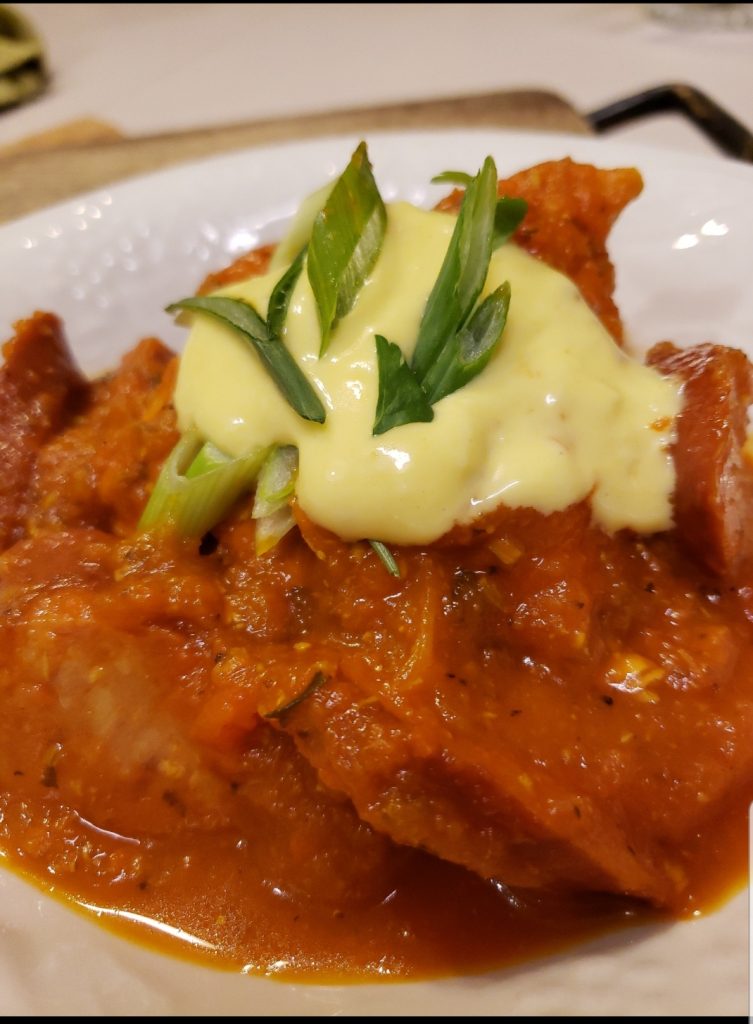 This is a rich, deep flavored, rustic chicken stew.
Print
Chicken Bouillabaisse with Kielbasa Sausage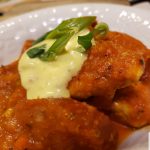 My take on this classic French stew. Pairs well with salad and a crusty bread.
Scale
Ingredients
Stew:
1 onion, sliced
2 carrots, peeled and sliced
2 celery ribs, sliced
1 whole head of garlic, peel each clove and smash
2 tsp turmeric
1/2 tsp herbs de provence
2 tsp fennel seeds
2 cans tomato sauce (15 oz each)
3 c chicken stock
2 c white wine
3 tsp salt
2 tsp pepper
8 boneless, skinless chicken breasts
Salt and pepper
Olive oil
14 oz kielbasa rope sausage, cut into 1/2" slices
1 lemon, zested
3 tsp dried tarragon
1 Tbs fresh rosemary, chopped
Rouille:
4 garlic cloves
2 tsp kosher salt
1/4 c mayonnaise
1 lemon, juiced
1/2 tsp turmeric
1/2 tsp red pepper flakes
1/2 c olive oil
1/2 tsp dried tarragon
Instructions
In a large Dutch oven, combine onion, celery, carrots, garlic, turmeric, herbs de provence, fennel, tomato sauce, chicken stock, white wine, salt, and pepper.  Bring to a boil, then reduce to a simmer for 30 minutes.  Using an immersion blender, blend until smooth.  Set aside in the Dutch oven.  Season chicken breasts with salt and pepper.  In a separate, large sauté pan, heat olive oil; add chicken and brown well on both sides. (about 5 minutes per side).  Add the browned chicken into the vegetable puree.  Bring to a boil, then reduce to simmer for about 25 min.  Add kielbasa, lemon zest, tarragon, and rosemary; and continue simmering for about 10 minutes, or until heated through.  Serve with a dollop of the rouille on top.
Rouille:
Place garlic, salt, mayonnaise, lemon juice, turmeric, and red pepper in a food processor and process until smooth.  Slowly pour the olive oil through the feed tube until it is emulsified and thick.  Remove, stir in the tarragon and refrigerate until ready to serve.