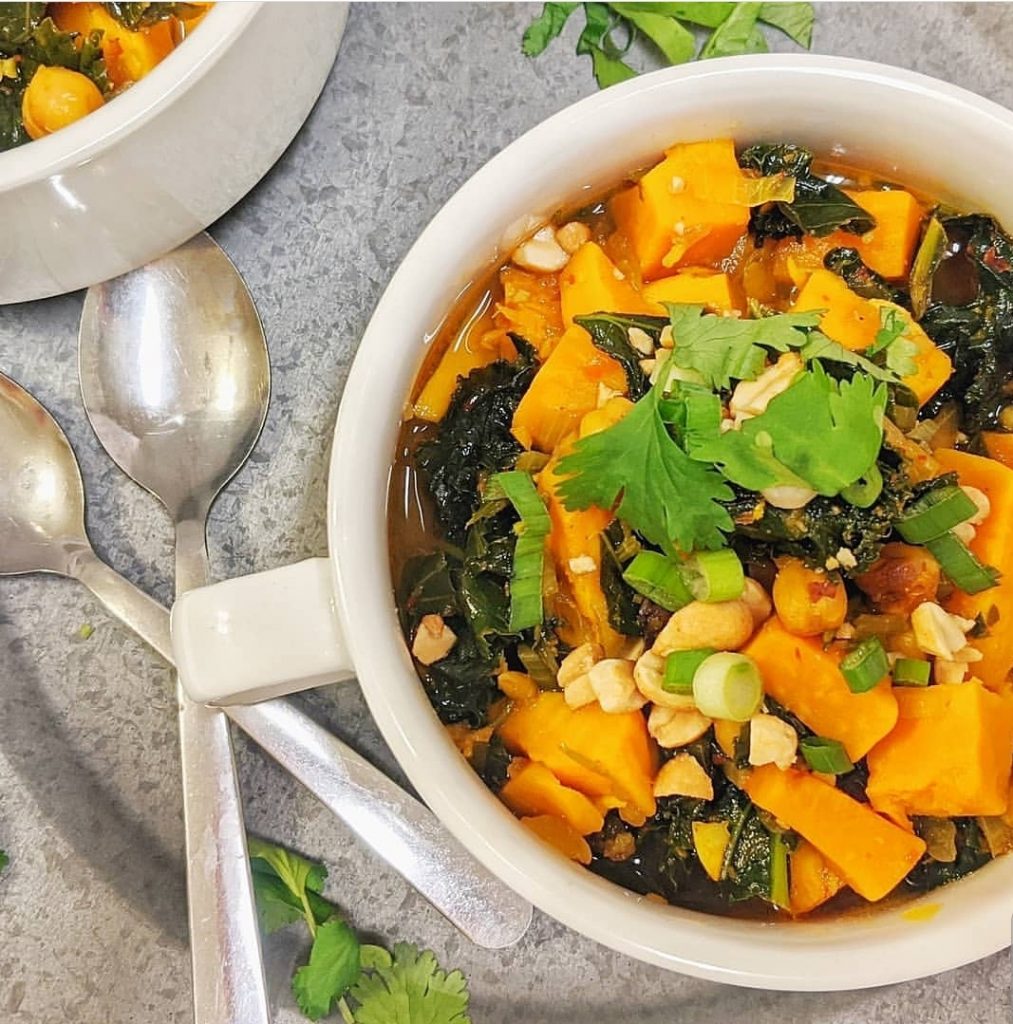 I'm all about soups and stews in the colder months, but if I'm honest, I'll eat a hearty stew any day of the year. Especially a stew that is healthy, and helps with a nasty cold!
Print
Sweet Potato & Chickpea Stew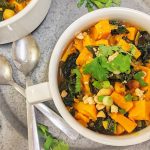 Got a cold? No problem. This stew will do the trick!
Scale
Ingredients
3 tablespoons olive oil
1 shallot, peeled and diced
5 cloves garlic, minced
2 " fresh ginger, peeled and grated
1 teaspoon salt
1 teaspoon pepper
2 large sweet potatoes, peeled and cut into 1" cubes
1 teaspoon Five Spice
½ teaspoon cinnamon
1 teaspoon turmeric
1 ½ teaspoon red pepper flakes
6 cups chicken broth
3 tablespoons fish sauce
3 tablespoons Sambal Oelek
1 can chickpeas, drained and rinsed
3 cups kale, stems removed
2 limes, juiced
½ bunch cilantro, chopped
5 scallions, chopped
Roasted peanuts, chopped for serving
Sriracha, for serving
Instructions
Heat olive oil in a large cast iron dutch oven or stock pot. Add the shallot, garlic, and ginger, and saute
until soft and translucent. Season with salt and pepper. Add the sweet potatoes and saute to soften
them, but not brown them too much. Just 3-5 minutes. Add in the Five Spice, cinnamon, turmeric, and
red pepper flakes; tossing around a bit to coat the sweet potatoes. Pour in the chicken broth, fish sauce,
and Sambal Oelek; and bring to a boil. Reduce the heat and simmer for 25-30 minutes, until the sweet
potatoes are soft. Pour in the chick peas and the kale and heat through; allowing the kale to wilt into
the soup. Pour in the lime juice, add the fresh cilantro and scallions and serve with chopped peanuts
and sriracha on the side.