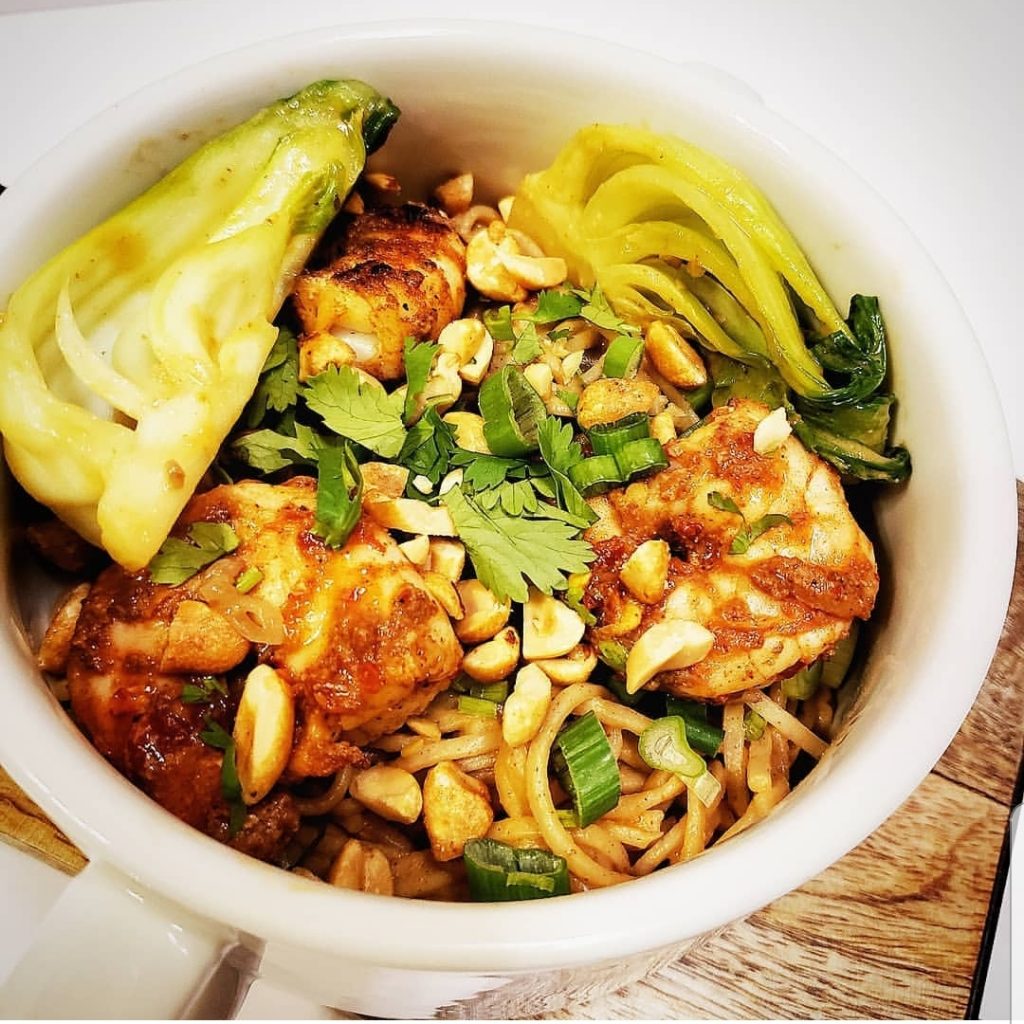 Craving oriental food, but don't want to get takeout…..again? Here's your solution. You're welcome 😉
Print
Spicy Soba Noodles with Shrimp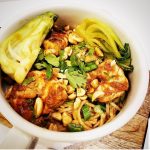 The perfect substitute for your regular oriental takeout.
Scale
Ingredients
¼ cup cashew butter
¼ cup reduced sodium soy sauce
2 tablespoons sriracha
2 tablespoons sweet chili sauce
1 tablespoon hoisin sauce
2 limes, juiced
1 pkg soba noodles
1 shallot, thinly sliced
3 cloves garlic diced
1 pkg Cremini mushrooms, sliced
4 baby bok choy, cut lengthwise in half, and then half again
1 lb shrimp, peeled
2 teaspoons Five Spice
2 tablespoons Sambal Oelek
1 teaspoon red pepper flakes
3 green onions diced, whites and greens separated
1/4 cup roasted peanuts chopped
Jalapeno, thinly sliced
cilantro chopped, optional
red pepper flakes optional
lime quarters, to squeeze over the noodles and shrimp
Instructions
Combine the cashew butter, soy sauce, sriracha, sweet chili sauce, hoisin sauce, and lime juice
in a bowl. Whisk to combine and set aside.
Bring a pot of water to a boil over high heat. Add soba noodles and cook for about 4-5 minutes,
until softened or according to the package instructions. When done cooking, drain and rinse
with cold water; this removes the starch and makes it so they don't get sticky. Don't skip this
step!
Meanwhile, heat some olive oil in a LARGE skillet over medium-high heat. Add the shallot,
garlic, and mushrooms to the pan and saute until softened and fragrant. Add the bok choy and
cook until it begins to wilt, turning often; then remove them from the pan. Toss the shrimp
with the Five Spice powder and add it to the skillet. Saute for 2 minutes, then flip them and
cook until opaque on the other side. Add in the Sambal Oelek and red pepper flakes and stir
until just heated through.
Lower heat and add the noodles and sauce to the pan and toss until combined. Add bok choy
back to the pan to reheat. Serve topped with green onion, roasted peanuts, jalapeno, cilantro,
and lime quarters to squeeze over the dish.