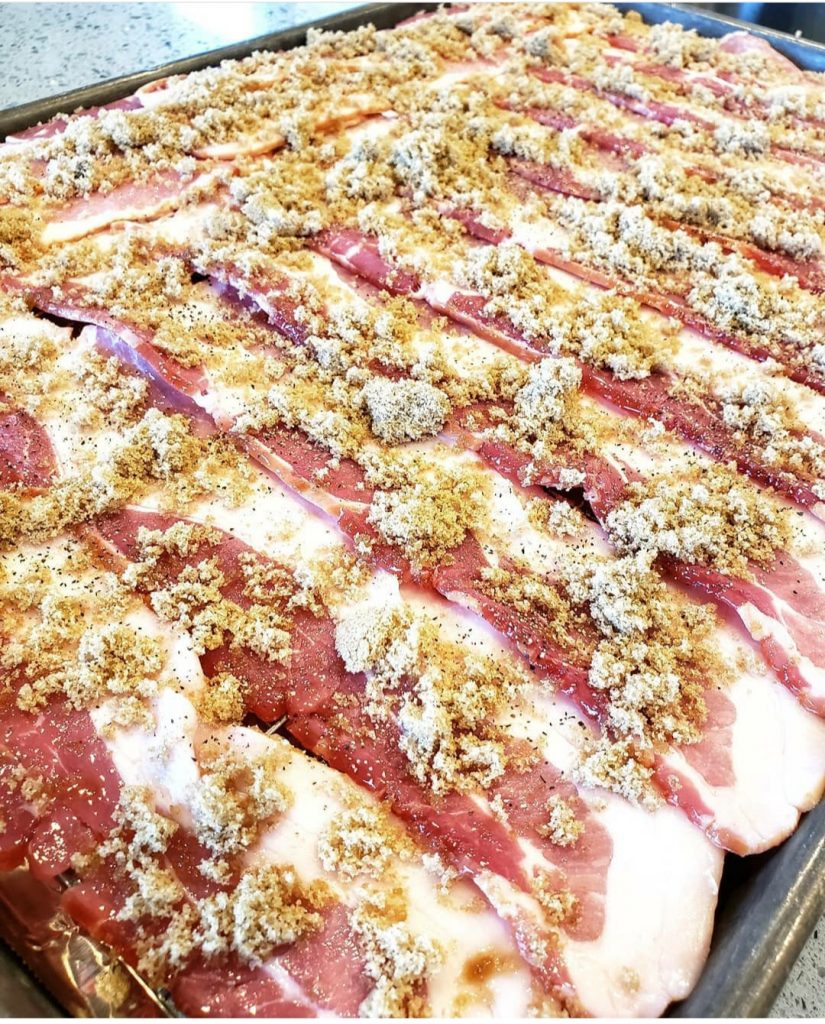 Recently, we tried a unique pizza from a local restaurant. It was a major hit among my family, and they all begged me to make my own version. I wasn't sure I could pull it off, but I love a challenge!

My pizza was a HUGE hit, and it disappeared so quickly that I couldn't get a good picture! It's that good. Don't be alarmed by the name or the ingredients… Trust me, this one is worth branching out for!
Print
Candied Bacon and Pineapple Pizza with Garlic Sauce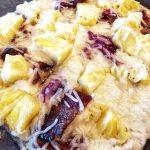 Candied bacon and pineapple atop a yummy, garlic sauce.
Scale
Ingredients
¼ cup butter
2 tablespoons olive oil
5 garlic cloves, minced
1 teaspoon oregano
1 teaspoon basil
Kosher salt and black pepper to taste
1 cup heavy cream
1 cup parmesan cheese, shredded
1 lb bacon
½ cup brown sugar
1 teaspoon black pepper
Pizza dough
Pineapple, diced very small
½ red onion, thinly sliced
Mozzarella cheese; 2-3 cups depending on how cheesy you like your pizza
Parmesan cheese; 1 cup or more to taste
Instructions
Preheat oven to 425F. Place bacon on a lined baking sheet, on a cooling rack. Sprinkle the brown sugar
evenly over the bacon, and do the same with the black pepper. Bake for 15 minutes, check to see
progress, and bake another 10-15 minutes, until they are crispy. Remove and set aside to cool.
Heat butter and olive oil in a small saucepan over medium heat; add garlic, oregano, basil, salt and
pepper, and cook until tender and fragrant, about 1 minute. Add the heavy cream and Parmesan cheese
to the mixture. Cook, whisking continuously, until cheese is melted and sauce has thickened slightly,
about 5 minutes. Remove from heat.
Increase oven to 450. Spread parchment paper on a baking sheet, and sprinkle with cornmeal. Spread
the dough out with your fingers, until it is evenly distributed and covers most of the baking sheet. Top
with the white garlic sauce and mozzarella cheese. Cut the cooled bacon into pieces and sprinkle it over
the mozzarella cheese. Then sprinkle the pineapple and red onion over the pizza. Top with parmesan
cheese and bake for about 10-15 minutes, until the crust is golden brown.