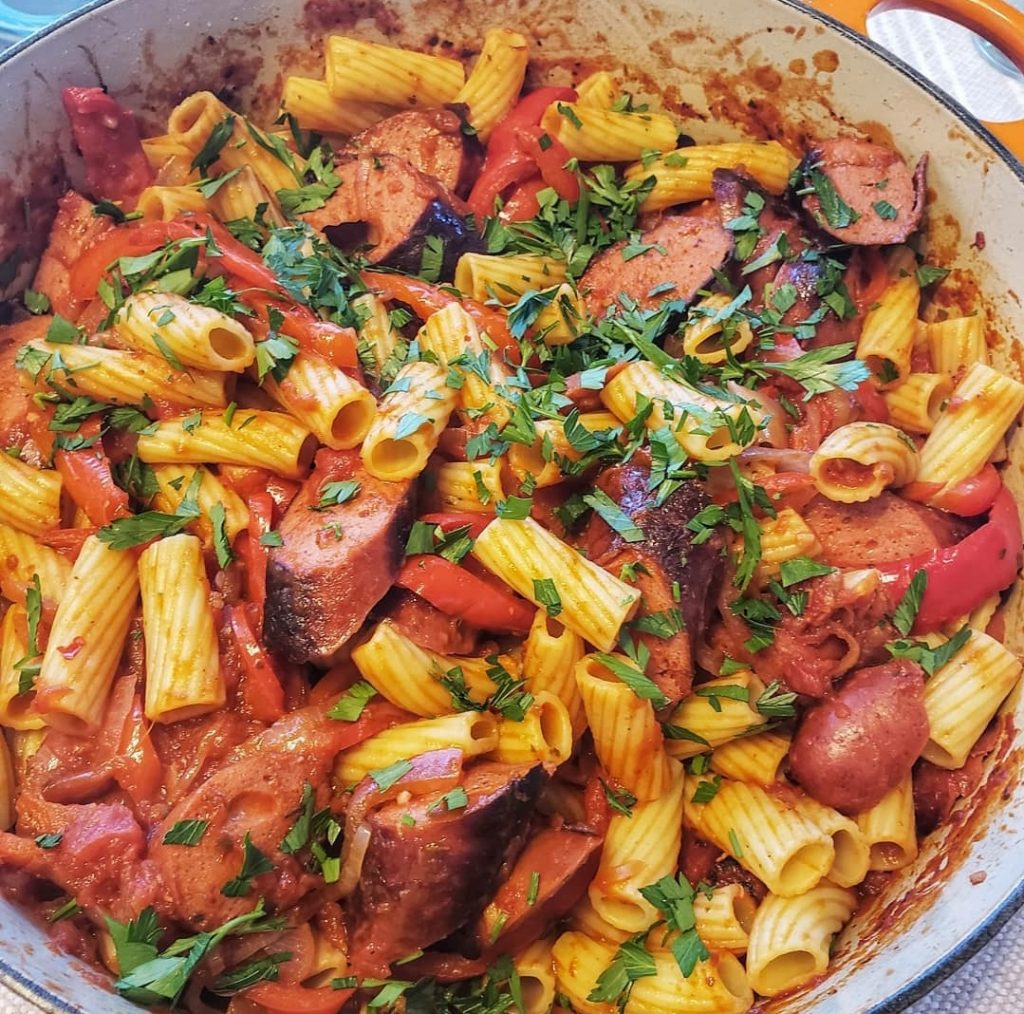 Sausage and peppers, what a classic combination of flavors. Onions, bell peppers, garlic, crushed tomatoes, and Italian sausages. Most of these are served on a hoagie bun….but I thought they would taste even better in a pasta! You know what? I was right!
Print
Sausage and Peppers Pasta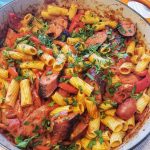 Sausage, bell peppers, onion, put into a pasta.
Scale
Ingredients
1 lb rigatoni pasta
1 pound sweet Italian sausage links
1 onion, thinly sliced
½ red onion, thinly sliced
4 cloves garlic
1 teaspoon kosher salt
½ teaspoon black pepper
2 red bell peppers, sliced
1 teaspoon dried basil
1 teaspoon oregano
1 can fire roasted crushed tomatoes
1 cup dry red wine
1 teaspoon red pepper flakes
Mozzarella slices or balls, opt.
Cherry Peppers
½ bunch basil, chopped, for serving
Instructions
Heat olive oil over medium heat. Add the sausage links and brown on all sides. Remove and set aside.
In the same pan, add additional olive oil, onions, and garlic; then season with salt and pepper. Saute
until soft and translucent. Add the red peppers, basil, and oregano, and continue to saute until the
peppers have softened. Add the crushed tomatoes, red wine, and red pepper flakes and simmer while
you cook the pasta.
Cook pasta to al dente. Lift the noodles out of the boiling water, when done, and directly into the veg
mixture. Add additional pasta water, if needed to thin.
Cut the sausage into 1 inch slices and add it to the pasta. Toss in the mozzarella and cherry peppers, top
with basil, and serve.