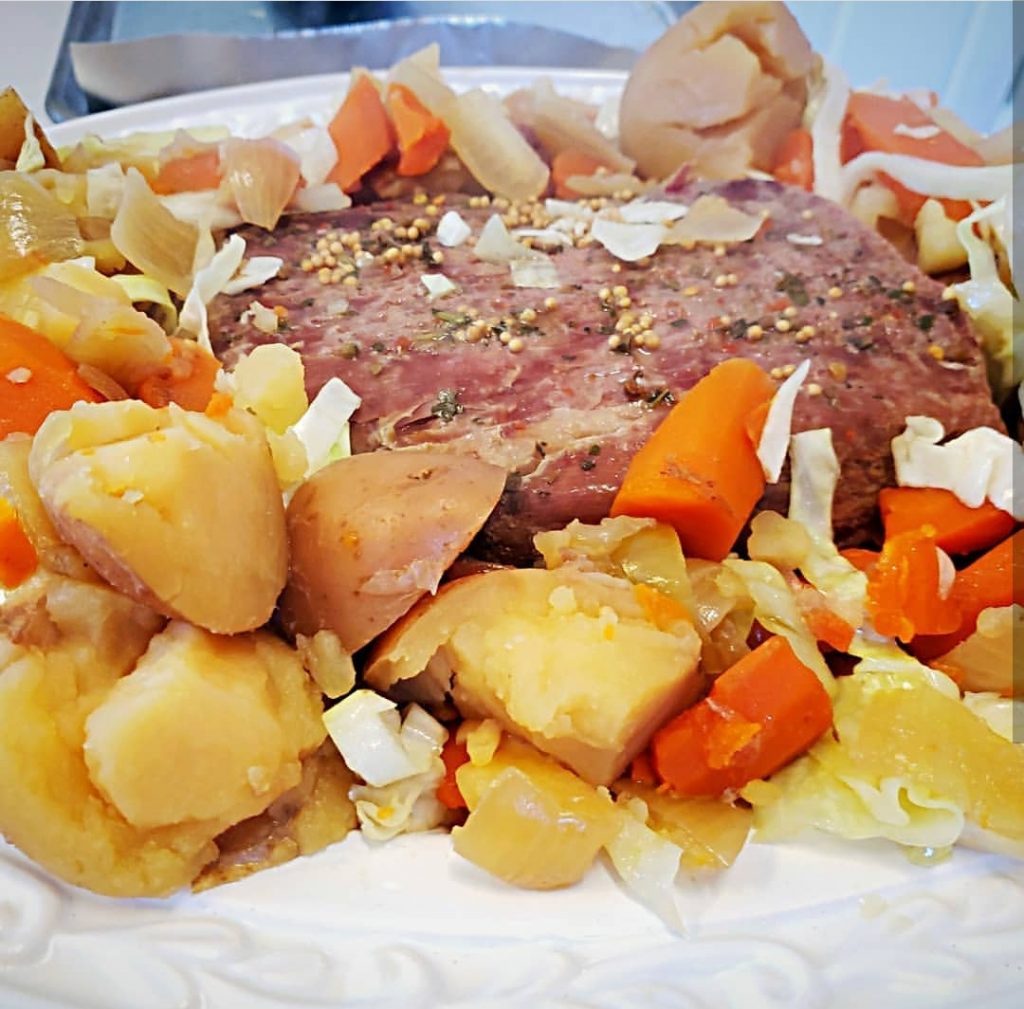 Print
Corned Beef with Oven Roasted Cabbage
St. Patrick's Day is one of our favorite holidays.  I mean, to the family of a member of a Firefighter's Pipes and Drums Band; it's practically the biggest holiday of the year!  We celebrate it with some traditional favorites, but that doesn't mean you always have to prepare them in the old traditional way.  The corned beef cooks in beer with the beef broth; which tenderizes it and brings out the sweetness of the carrots as well.  And as for cabbage – oven roasting it is the way to go!  You'll love the crunchiness and texture you get from this dish.
Author:
Category:

St. Patrick's Day, Beef, Corned Beef, Crockpot
Scale
Ingredients
8-10 carrots, peeled and cut on the bias into chunks
2 onions, sliced
8-10 baby red potatoes, cut into quarters
1 – 4 lb corned beef brisket with the seasoning packet
1 Fat Tire beer, or any 12oz beef or your choice
4 cups beef broth
Cabbage – Don't prep until there is only 1 hour left on the brisket
1 head of cabbage, thinly sliced
1 red onion, sliced, thinly sliced
Olive oil
Salt and pepper
Red pepper flakes
Instructions
Place the carrots, onions, and potatoes in the crock pot, put the corned beef on the top.  You may have to pull some of the vegetables up the side of the corned beef to make it fit.  Sprinkle the seasoning packet over the beef.  Pour the Fat Tire beer over the beef and then pour the beef broth around the beef, over the vegetables.  Double cover the crockpot with aluminum foil and put the lid on.  Cook on high for about 8 hours.  When done, remove and thinly slice the brisket.  Serve on a platter, surrounded by the potatoes, carrots, and cabbage, from below.
When there is about 1 hour left, preheat the oven to 425*.  Toss the cabbage, red onion, olive oil, salt and pepper, and red pepper flakes together.  Line a baking sheet pan with aluminum foil and spread the mixture out on the sheet pan.  Roast for 15-25 minutes, until tender and starting to brown.  Watch it and remove when the edges are starting to turn brown.  Serve with the brisket and vegetables.