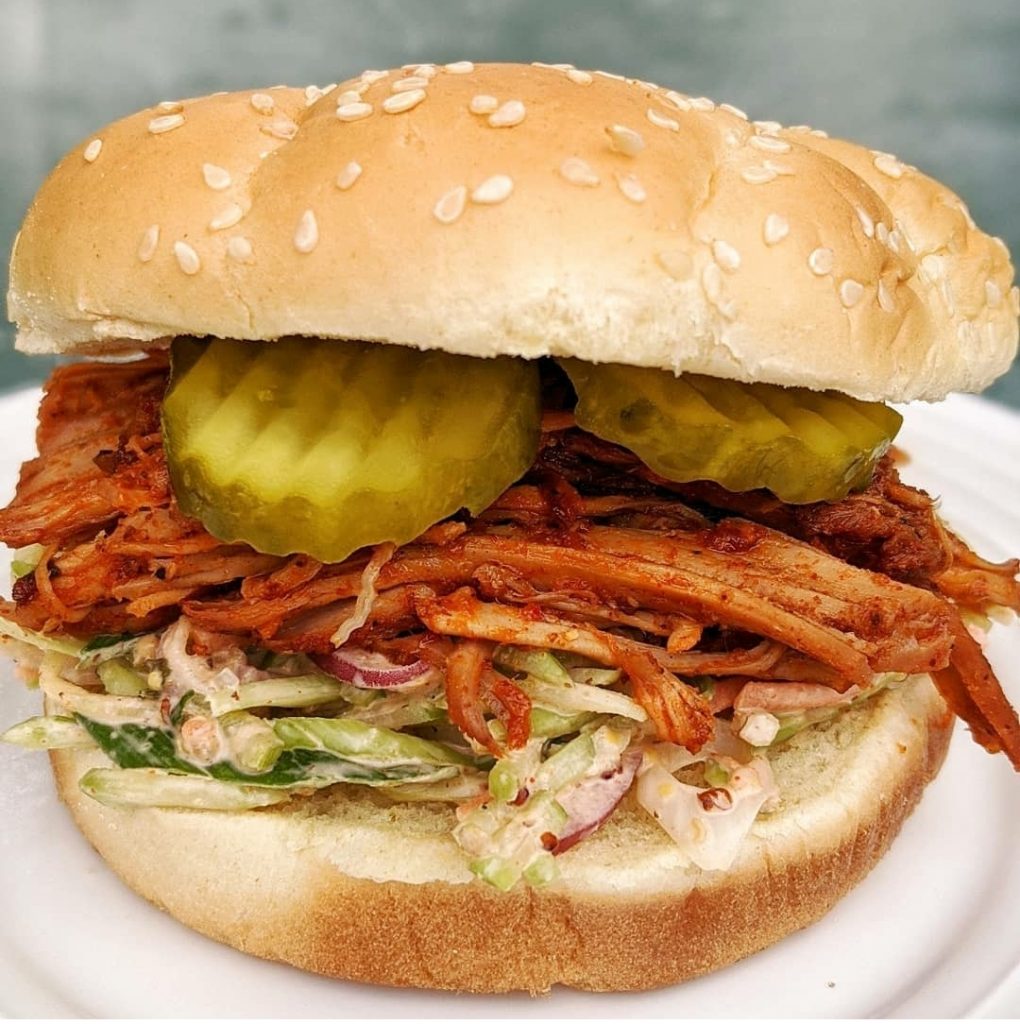 These pulled pork sandwiches were a hit with my family! I jazzed up a classic barbecue sauce, and used my famous Spicy Southern Slaw as well.
Print
Southern Style Pulled Pork Sandwiches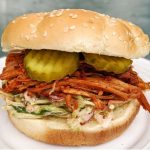 Scale
Ingredients
Dry Rub:
1 4-5 lb pork sword
3 tablespoons kosher salt 
¼ cup brown sugar 
3 tablespoons smoked paprika 
1 tablespoon garlic powder 
2 teaspoons freshly ground pepper 
1 tablespoon chili powder
1 tablespoon dry mustard 
1 ½ teaspoon dried thyme
1 teaspoon ground cumin
1 teaspoon ground ginger
Sauce:
1 cup BBQ sauce
½ cup cider vinegar
¼ cup brown sugar
¼ cup spicy brown mustard
1 tablespoon onion powder
1 tablespoon Worcestershire sauce
2 teaspoons chili powder
2 cloves garlic, minced
1 teaspoon cayenne pepper
Liquid from the pork, add at the end
Hamburger Buns
Spicy Southern Slaw
Pickles
Cheese 
Instructions
Sprinkle the meat with ¼ cup of the Rub and let it stand at room temp for 30 minutes. Put in a
lightly greased crock pot, with the fat side up. Cover and cook on Low for 7 hours, or until the
meat is tender and ready to shred. Put the meat on a tray and shred with forks. Put it back in
the crock pot with 1 ½ cups BBQ sauce and cook on High for 25-30 minutes until warmed
through. Serve with additional BBQ sauce on the side, Spicy Southern Slaw, Pickles, and
Cheese.
To make the sauce, while the meat is cooking: Bring BBQ Sauce, cider vinegar, brown sugar,
spicy brown mustard, onion powder, Worcestershire Sauce, chili powder, garlic cloves, salt,
pepper, and cayenne to a boil in a large saucepan, then reduce to low; cover and cook, stirring
occasionally, 25 minutes or until slightly thickened. After shredding the pork, add any pan
juices to the sauce.