This steak is the perfect dinner for summer! And here's a secret — this was actually my first time grilling flank steaks. I was nervous to give this a try, but I am so glad I did. My kids loved it, and everyone went back for seconds or thirds. Definitely a must try for summer!
Print
Balsamic Lime Flank Steak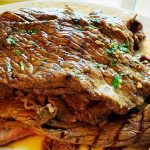 Tangy, tender, and delicious! Pairs great with roasted vegetables or mashed potatoes.
Scale
Ingredients
¼ cup balsamic vinegar
¼ cup lime juice
3 garlic cloves, minced
½ shallot, minced
1 T honey
1 teaspoon red pepper flakes
½ cup olive oil
3 lbs Flank Steak
Instructions
Combine the 1st seven ingredients, whisking to combine.  Put the flank steak in a resealable bag, and pour the marinade over the steak.  Seal the bag, pushing as much air out, as possible.  Refrigerate for at least 2 hours, and up to 24 hours.
Preheat your grill to high. Place flank steak on the grill and cook for about 10 minutes, until it reaches 135 degrees for medium rare. Remove the steak, cover it, and allow it to rest for 10 minutes, to allow the juices to redistribute before slicing.