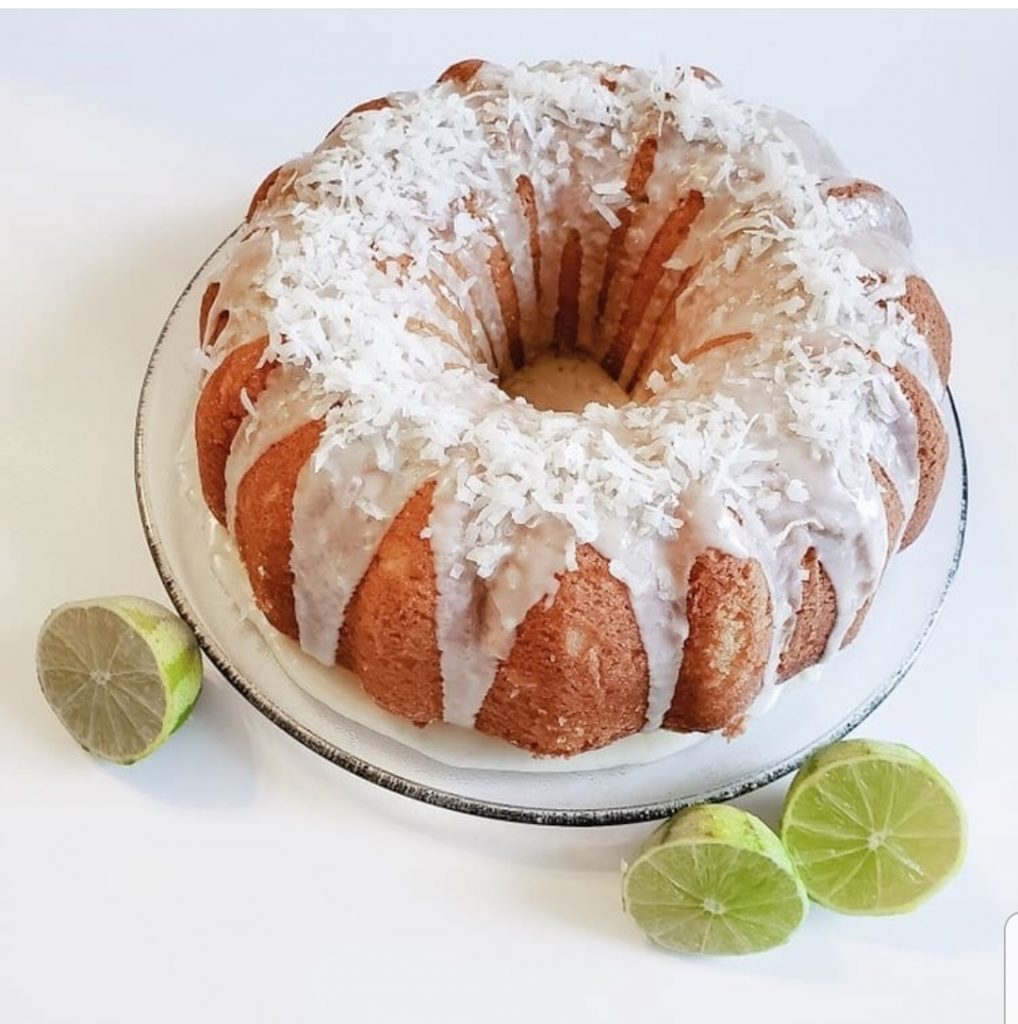 Print
Lime Coconut Rum Cake
These flavors make me want to sit on a beach in Cabo, but I will settle for a slice of cake; bursting with lime and coconut rum, in the comfort of my backyard.  Can I at least listen to "Toes", by Zac Brown, while I eat it?
This moist cake has a wonderful texture and a light feel.  Just right for an end of summer party.
Scale
Ingredients
Cake
1 cup butter, softened
½ cup butter flavored shortening
1 ½ cups sugar
5 large eggs
1 t vanilla extract
½ cup milk
½ cup lime juice
½ cup Malibu Rum
1/3 cup lime zest
3 cups flour
1 T baking powder
1 t salt
Glaze
1/3 cup lime juice
¾ cup sugar
Icing
¼ cup lime juice
½ t vanilla extract
Zest of 1 lime
1 cup powdered sugar
Shredded coconut for finishing
Instructions
Preheat oven to 350*.  Butter and flour a bundt pan, set aside.
In a stand mixer, cream the butter and shortening together.  Add the sugar and beat until light and fluffy.  Add the eggs, one at a time, mixing after each addition.  Add vanilla extract and mix to combine.  In a separate bowl, combine the milk and lime juice and let sit for 5 minutes.  After the 5 minutes,  add the Malibu rum and lime zest.  Set aside.  In a separate large bowl, sift the flour, baking powder, and salt together.  Set aside.
 Add ½ of the rum/milk mixture to the egg/sugar mixture and mix on low speed, until just combined.  Then add ½ of the flour mixture and again, mix on low until just combined.  Add the rest of the liquid, mixing it in, and then the remaining flour mixture, only mixing until combined. 
Pour into the bundt pan and bake for 45-55 minutes, or until a toothpick comes out clean.  Meanwhile, whisk the "glaze" ingredients together.  When the cake comes out, poke holes in the hot cake with a knife, while it is still in the pan; and pour the glaze all over the cake.  Allow to cool in the pan, and absorb the glaze.  Once it is completely cooled, turn the cake out onto a serving plate.