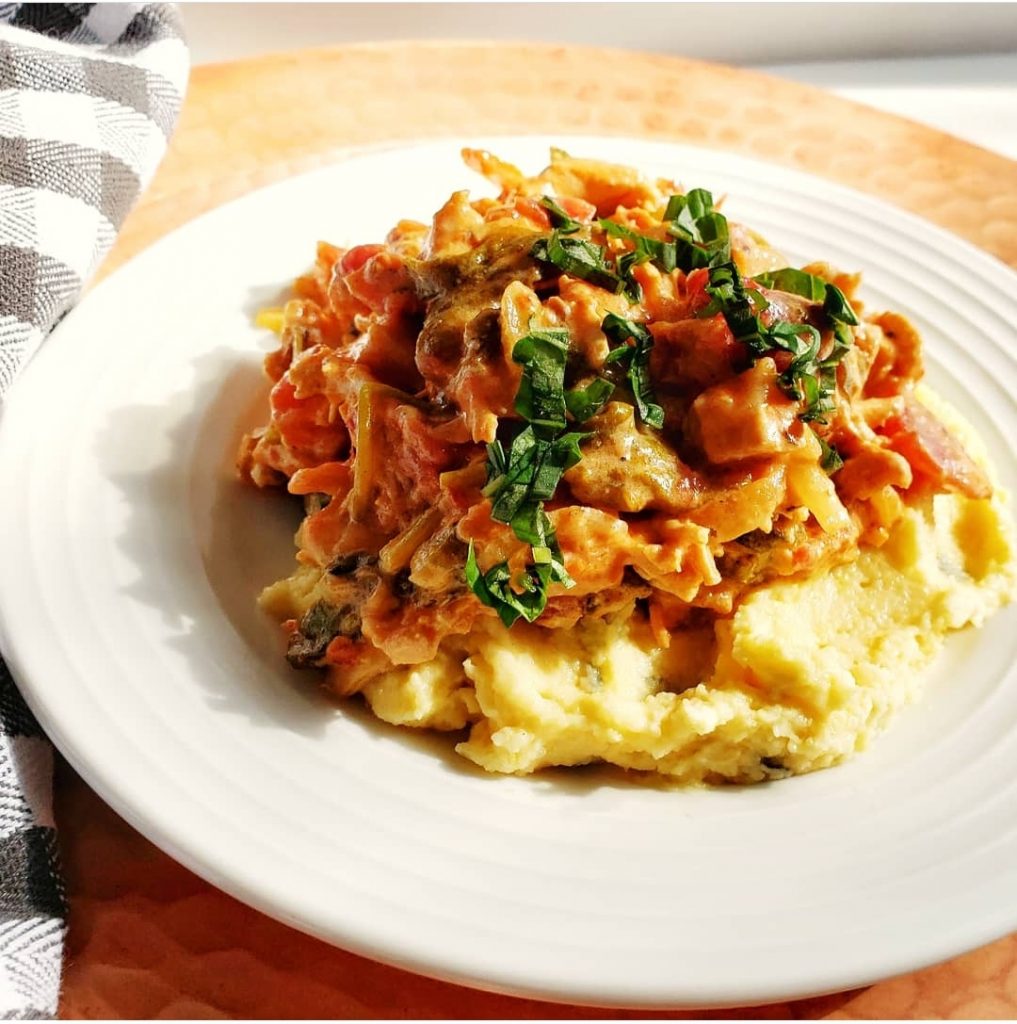 Print
Tuscan Chicken with Creamy Polenta
This comforting dish is destined to become a family favorite!  Cooks all day in the crock-pot, developing depth of flavor; and brings restaurant flavors to the table.   Sun-dried tomatoes, spinach, and cream round out the sauce with tender chicken and is served over creamy, cheesy polenta.
Scale
Ingredients
For the Chicken:
Olive Oil
4–6 Chicken Breasts
Salt and Pepper
1 onion, thinly sliced
½ bottle, sundried tomatoes
1–2 15 oz cans, fire roasted tomatoes, with juice
2 cloves garlic, minced (or 1 ½ teaspoons garlic powder)
3 Tablespoons fresh basil, chiffonade (or 1 tablespoon dried basil)
2 teaspoons Italian seasoning
½ cup white wine
2 cups chicken broth
1 cup heavy cream
3 heaping handfuls of spinach
1 teaspoon red pepper flakes, (more to taste)
For the Polenta:
4 cups chicken stock
1 t garlic powder
1 teaspoon salt
1 teaspoon pepper
1 cup cornmeal
½ cup parmesan cheese
1/3 cup heavy cream
1 teaspoon fresh oregano, minced
Instructions
For the chicken:
Heat olive oil in a large saute pan.  Season the chicken with salt and pepper on both sides.  Sear on both sides, until nicely browned.  Remove and set aside.  Place onions in the bottom of the crockpot and lay the chicken on top the onions.  Add in the sundried tomatoes and the fire roasted tomatoes.  Sprinkle the garlic, basil, and Italian seasoning over the top of the chicken.  Pour in the white wine and chicken broth.  Cover and cook for 7-8 hours on low.
When complete, uncover and stir in the heavy cream.  Put the spinach on top and sprinkle with the red pepper flakes.  Using a wooden spoon, gently press the spinach into the sauce.  Cover again, and continue cooking, letting the spinach wilt into the sauce; about 10-25 more minutes.  Serve over creamy polenta.
For the Polenta:
Heat the chicken stock, garlic powder, salt, and pepper; and bring to a boil.  Whisk in the polenta, stirring constantly.  Reduce heat to low, and continue stirring.  Mixture will thicken quickly.  Stir in parmesan cheese, heavy cream, and oregano.  Adding more cream or parmesan cheese to achieve desired consistency.