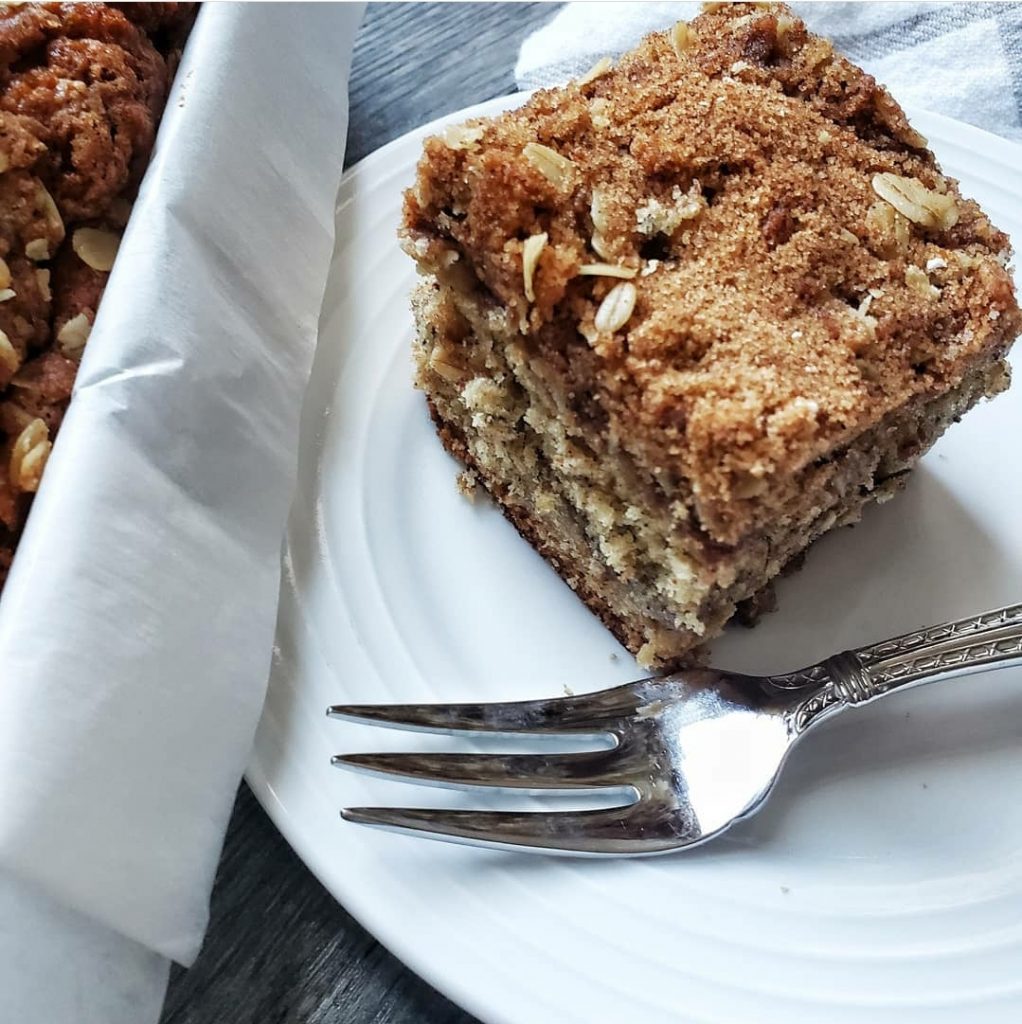 Who needs a reason to make a streusel cake? But we DO need a reason to use the ripe bananas. This tender cake has an addictive streusel filling in the middle, and on top of the cake. Breakfast, brunch, after school snack, coffee break… I've got you covered.
Print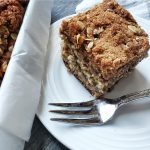 Banana Streusel Cake
---
Description
Moist cake with streusel filling and bananas.
---
Scale
Ingredients
Cake:
¾ cup butter
3/4 cup packed brown sugar
2 eggs
2 teaspoons vanilla extract
1 teaspoon butter extract
3 bananas, mashed
1/4 cup milk
2 1/2 cups all-purpose flour
2 teaspoons baking powder
1 teaspoon baking soda
1 teaspoon cinnamon
¾  teaspoon nutmeg
1 teaspoon kosher salt
Streusel Topping:
1 cup brown sugar
¼ cup flour
4 teaspoons cinnamon
4 tablespoons butter; cold, and cut into thin slices
¼ cup oatmeal, reserved aside
---
Instructions
Preheat oven to 350F. Grease and line a 9×13 baking pan with parchment paper.
In a large bowl, beat the butter and brown sugar together. Add the eggs, vanilla, and butter extracts,
and mix until well incorporated. Add the bananas and milk and beat until smooth. In a separate bowl,
sift the flour, baking powder, soda, cinnamon, nutmeg, and salt together. Add to the wet ingredients
and mix, just until combined. Set aside.
In another bowl, put the streusel ingredients; the brown sugar, flour, cinnamon, and butter. Using a
pastry cutter, mix them together until they resemble coarse crumbs.
Put ½ the batter in the baking pan. Top with 1/2 of the streusel topping, and then put dollops of batter
on top the streusel. To the remaining streusel topping, add the oatmeal. Sprinkle the streusel over the
top of the batter. Place in the oven and bake for 25-30 minutes, or until a toothpick comes out clean.