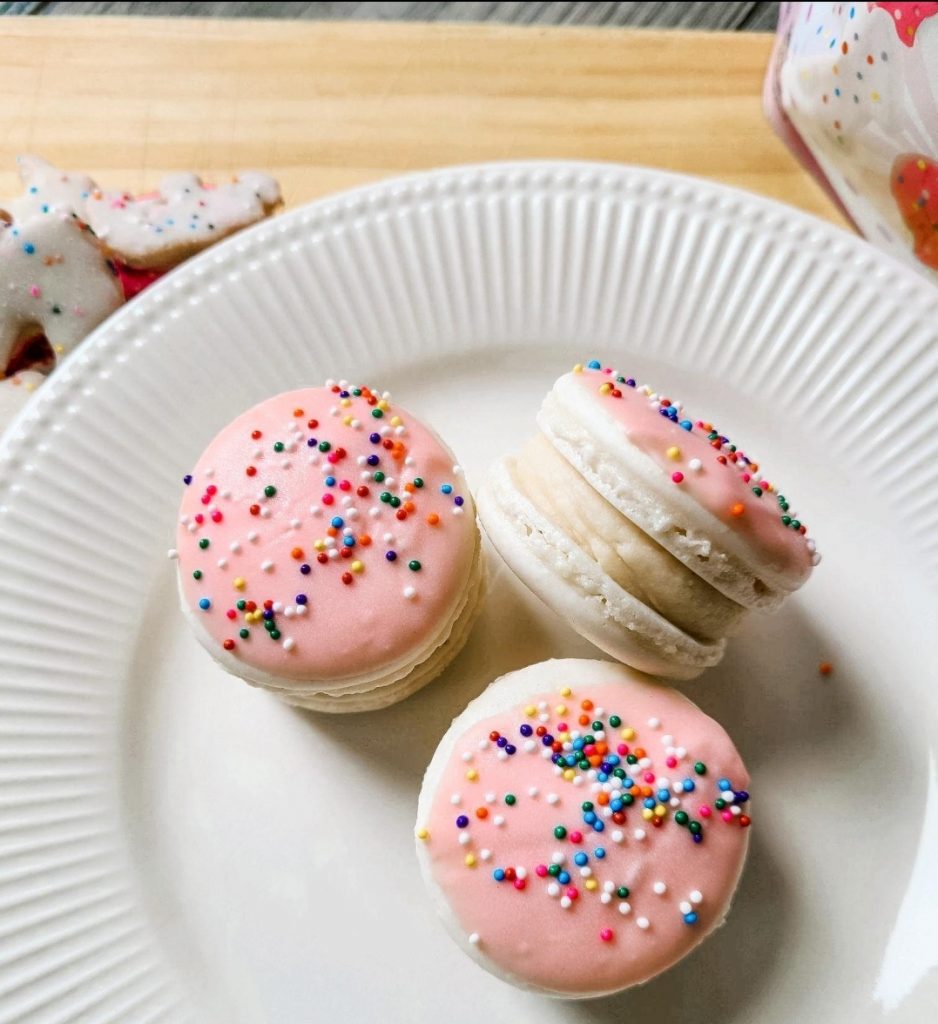 Macarons are truly a form of art, and it has taken me years to get a good batch of macarons. Don't be hard on yourself if a batch doesn't turn out! Keep at it, and try again. 🙂
This particular batch was fun to make! I gave the classic pink and white animal cookies new life when I turned them into this delicious dessert. If you decide to give macaron baking a try, definitely start with these! Your taste buds won't be disappointed.
Print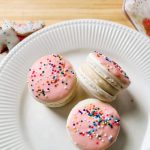 Circus Animal Macarons
---
Description
Circus animal cookies turned into macarons.
---
Scale
Ingredients
Shells:
190 grams powdered sugar
95 grams almond flour
Pinch of salt
3 egg whites
¼ teaspoon cream of tartar
¼ cup granulated sugar
Filling:
½ cup butter, room temp
¼ cup white cake mix
¾ cup powdered sugar
1 teaspoon vanilla extract
¼ teaspoon almond extract
3 tablespoons heavy cream
Pinch of salt
Toppings:
White chocolate chips, melted
½ tablespoon crisco
Light pink food coloring
Sprinkles
---
Instructions
For the shells:
Sift powdered sugar and almond flour together. Add the pinch of salt. Set aside.
In the mixer, combine the egg whites and cream of tartar and beat until frothy, slow it way down and add the sugar slowly. Then speed it up and beat until it forms stiff peaks and you have resistance when you drag the whisk through. Add the meringue to the almond flour mixture and fold them together. Then, continue folding, until the batter falls off the spatula in ribbons and doesn't break. Transfer the batter to a piping bag, fitted with a round tip. Pipe onto silpat sheets; and let them sit for 20-60 minutes, depending on your humidity level; until a skin forms on the top.
Bake, at 300* for 15-17 minutes. Remove and cool completely!
For the filling:
Beat the butter, until fluffy. Add the cake mix, powdered sugar, extracts, and salt; and continue beating until it comes together. Pour in the heavy cream, and beat again, until light and creamy. Transfer to a piping bag, and pipe between two shells. Refrigerate until firmed up, then do the topping.
For the topping:
Put the white chocolate chips and Crisco in a glass bowl, and microwave in 20 second increments, until smooth and runny. Add the pink food coloring. Dip one side of the macaron, and let the chocolate drip off. Sprinkle with rainbow sprinkles and let the topping set.