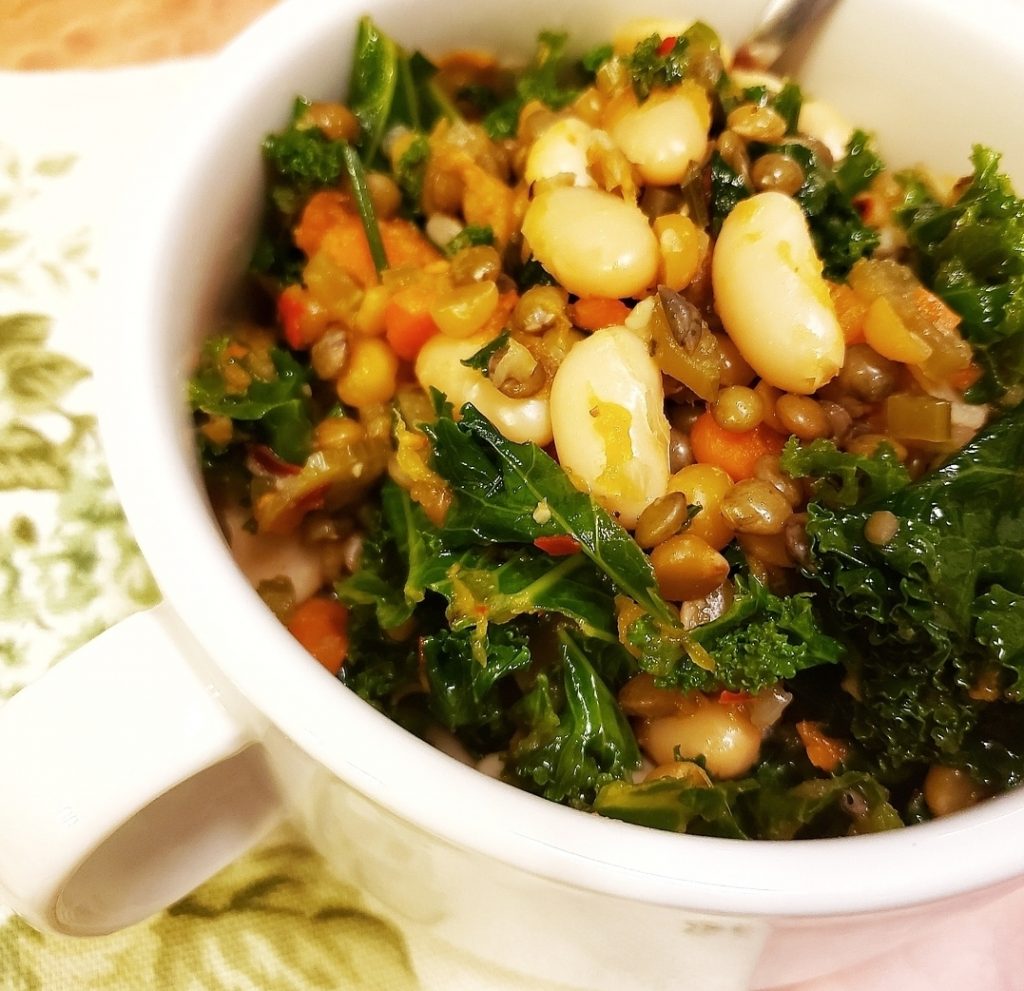 Print
French Lentil and Calabrian Chile Vegetable Bowl
I love lentils…..I love butternut squash…..I love calabrian chiles…………and I love cannellini beans.  I also love having a meatless main dish that is hearty and filling.  This delivers on every requirement and incorporates all of my above favorites.  Win Win.
French lentils and vegetables sauted in a spicy calabrian chile based broth, with cannellini beans and kale.  Finish it off with a drizzle of olive oil and a dash of red wine vinegar for a flavor explosion!
Scale
Ingredients
1 cup French lentils
1 onion, diced
4 cloves garlic, minced
2 cups butternut squash, peeled and cubed
2 cups carrots, diced
4 stalks celery, diced
1 teaspoon salt
¼ cup Crushed Calabrian Chili Peppers, I used the Tutto Calabria brand
2 teaspoons red pepper flakes
1 teaspoon sweet smoked paprika
1 teaspoon black pepper
¾ cup yellow split peas
6 cups vegetable broth
2 cans cannellini beans, rinsed and drained
3 cups kale, stems removed
½ bunch parsley, chopped
3 T olive oil
Red Wine Vinegar
Almond/Sundried Tomato topping – recipe below
Instructions
Cover the French Lentils with boiling water and let sit for at least 15 minutes.  In a large dutch oven or stock pot; heat olive oil on medium high heat, and saute the onion, garlic, butternut squash, carrots, celery, and salt; until the vegetables have softened and "sweated" out.  Reduce heat to medium, and add in the chili peppers, red pepper flakes, paprika and black pepper and stir to incorporate them into the vegetables.  Pour in the peas and stir to combine.  Add in the rinsed and drained lentils and the vegetable broth.  Bring to a boil and reduce to simmer for 45 minutes; until the lentils have softened.  Add in the cannellini beans, kale and parsley and allow to simmer until the kale has wilted into the lentils and the beans are heated through.  This should be a thick consistency, not a soup.  Drizzle the olive oil over the top.  Serve with a few drops of red wine vinegar and a tablespoon or two of the sundried tomato topping.
Almond/Sundried Tomato topping:
3 T pinenuts
¼ cup almonds
Zest of 1 lemon
½ bunch parsley
¼ cup basil
¼ cup sundried tomatoes with their oil
½ teaspoon kosher salt
Pulse together in a food processor.  Add olive oil to loosen it, if needed.  It should resemble a gremolata when done.