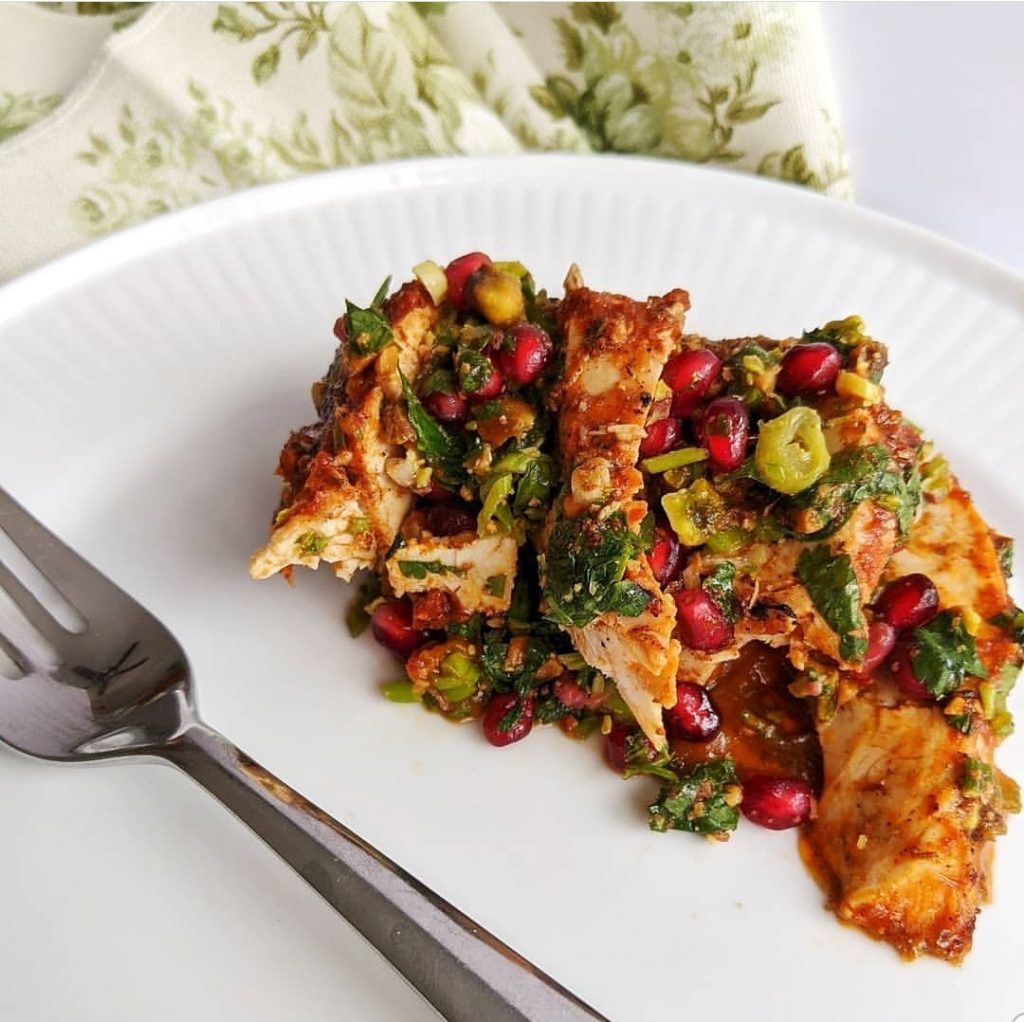 Print
Harissa Roasted Chicken with Pomegranate Relish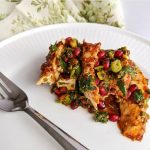 Moroccan flavors paired with a delicious pomegranate relish.
Scale
Ingredients
1 whole chicken, spatchcocked
1 ½ teaspoons cumin
1 ½ teaspoons coriander
1 ½ teaspoons onion powder
1 tablespoon smoked paprika
1 teaspoon cinnamon
½ teaspoon cardamom
1 teaspoon kosher salt
1 teaspoon pepper
Olive oil
1 10 oz jar of harissa paste
2 tablespoons brown sugar
4 cloves garlic, minced
1 lemon, zested and juiced
2 tablespoons olive oil
Pomegranate Relish:
Seeds from 1 pomegranate
3 tablespoons olive oil
¼ cup pistachios, chopped
2 scallions, thinly sliced
1 lime, juiced
2 tablespoons cilantro, chopped
2 tablespoons parsley, chopped
1 teaspoon cumin
Instructions
Preheat oven to 425*. Pat the chicken dry and set aside. In a small bowl, combine the cumin, coriander,
onion powder, smoked paprika, cinnamon, cardamom, salt and pepper. Sprinkle over the chicken and
rub into the skin and meat. Heat olive oil in a large dutch oven skillet, over medium heat. Place the
chicken skin side down, and sear for 5-10 minutes; browning the skin, but not burning it. Flip the
chicken and sear on the other side for another 5-7 minutes. Meanwhile, combine the harissa paste,
brown sugar, garlic, lemon zest, lemon juice, and olive oil. Pour over the chicken and place the skillet in
the oven. Roast for 35-45 minutes, or until the breast registers 165*. Remove and serve with
Pomegranate Relish.
Relish:
Mix everything together. Serve over the Moroccan chicken.