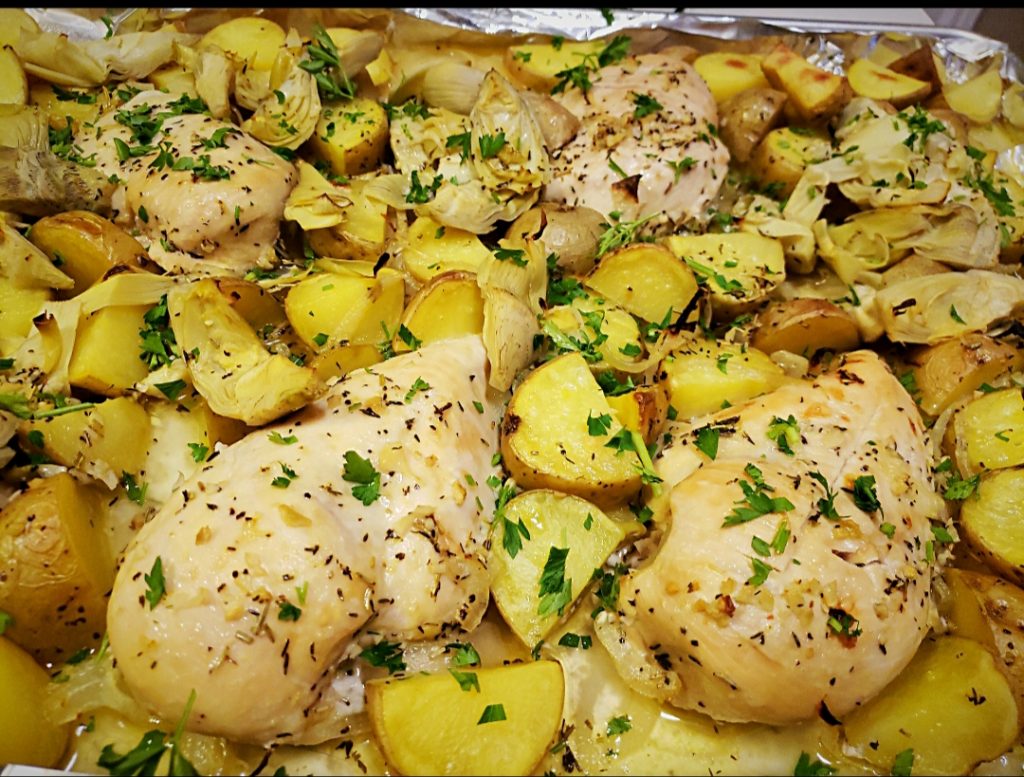 Who doesn't love easy? Sheet pan dinners allow you to bake the entire meal on one pan. This dinner is quick to whip up, and only takes 40 minutes of baking time to get to your table. Enjoy!
Print
Sheet Pan Lemon Rosemary Chicken with Artichokes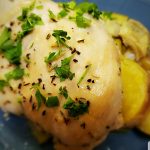 Lemon rosemary chicken baked together with artichokes and potatoes with a lemon, rosemary, and white wine sauce on one sheet pan.  
Scale
Ingredients
6 boneless, skinless chicken breasts 1 onion, sliced 1/4 c white wine 1/4 c chicken broth 1/3 c butter, melted 4 cloves of garlic, minced 1-1/2 tsp dried rosemary 1-1/2 tsp dried thyme 10-12 Yukon gold potatoes, quartered 2 cans artichoke hearts, drained zest of a lemon juice of 1/2 a lemon about 1 tsp salt and pepper chopped fresh parsley, for serving  
Instructions
Preheat oven to 425 degrees. Combine white wine, chicken broth, butter, garlic, rosemary, thyme, zest and juice from lemon, salt and pepper. Whisk well. Cover a baking sheet with tin foil. Place chicken and potatoes on the sheet and toss with 1/2 of the sauce. Roast for 20 minutes in the oven. After 20 minutes, remove the sheet pan and flip the chicken breasts while making room for the artichokes. Toss with remaining sauce and roast for another 20 minutes or until chicken is cooked through. Broil for 2-3 minutes, if desired, to brown the chicken. Top with chopped parsley.