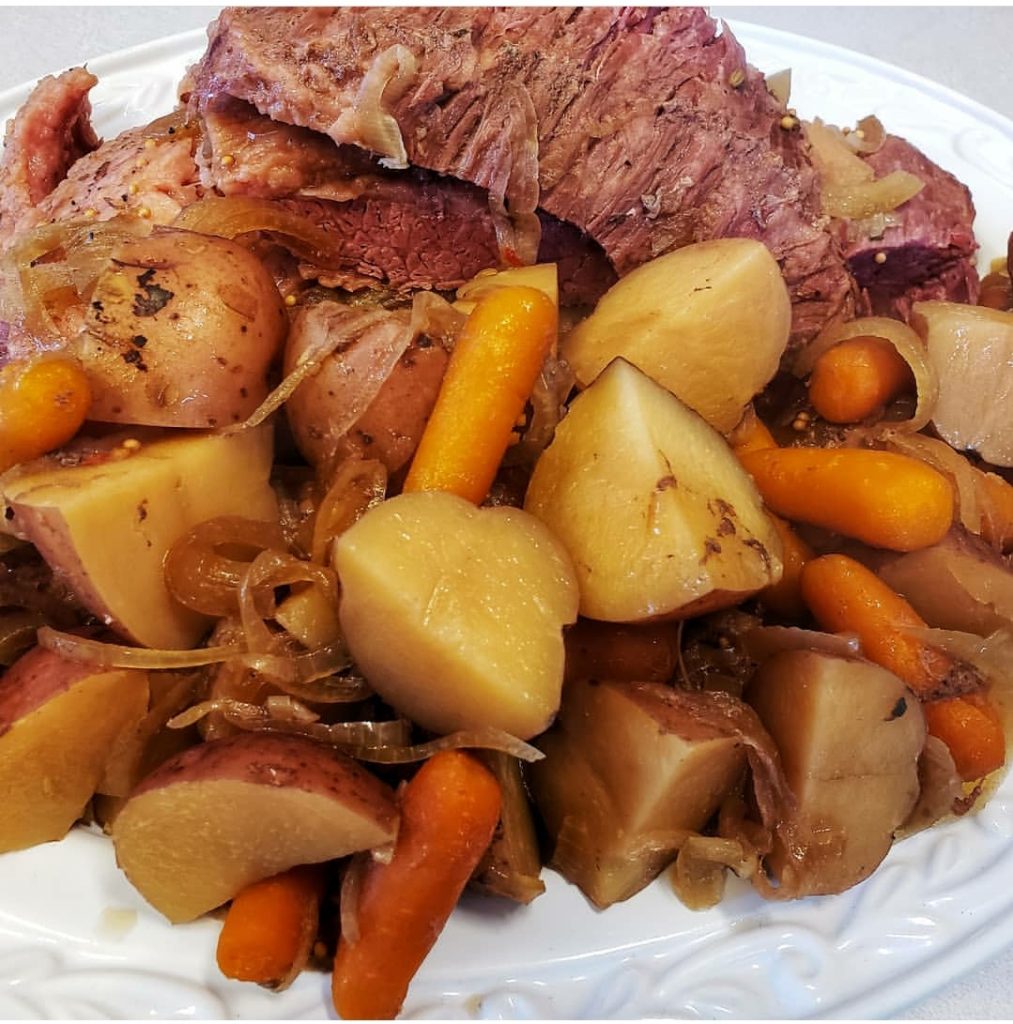 We take Saint Patty's Day very seriously around our house. It has always been a favorite to celebrate, but it's especially important to us ever since my husband became a bass drummer (and soon to be bagpiper!) for the Emerald Society. In fact, we travel to Dallas every year to participate in the huge Saint Patty's Day parade.
As you may now, corned beef and cabbage is a traditional meal for Saint Patty's Day. Not to brag, but my family claims my recipe is the best 😉 Try it out for yourself and you'll see!
Enjoy!
Print
Corned Beef and Cabbage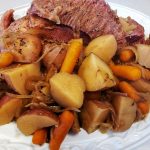 Traditional meal for Saint Patty's Day. Delicious corned beef and yummy cabbage.
Scale
Ingredients
8–10 carrots, peeled and cut on the bias into chunks
2 onions, sliced
3 garlic cloves, whole
8–10 baby red potatoes, cut into quarters
1 4 lb corned beef brisket with the seasoning packet
1 Fat Tire beer, or any 12oz beef or your choice
4 cups beef broth
Cabbage – Don't prep until there is only 1 hour left on the brisket
1 head of cabbage, thinly sliced
1 red onion, sliced, thinly sliced
Olive oil
Salt and pepper
Red pepper flakes
Instructions
Toss the carrots, onions, and potatoes in the crock pot, place the corned beef on the top of the
vegetables. You may have to pull some of the vegetables up the side of the corned beef to make it fit.
Sprinkle the seasoning packet over the beef. Pour the Fat Tire beer over the beef and then pour the
beef broth around the beef, over the vegetables. Double cover the crockpot with aluminum foil and put
the lid on. Cook on high for about 8 hours.
Meanwhile, with 1 hour left on the corned beef, preheat the oven to 425*. Toss the cabbage, red onion,
olive oil, salt and pepper, and red pepper flakes together. Line a baking sheet pan with aluminum foil
and spread the mixture out on the sheet pan. Roast for 15-25 minutes, until tender and starting to
brown. Watch it and remove when the edges are starting to turn brown.
Carefully take off the tin foil from the crockpot. Remove the brisket, and thinly slice. Serve on a platter,
surrounded by the potatoes, carrots, and cabbage mixture. Put the juices from the crockpot in a glass
measuring container and serve with the beef and vegetables, to pour over the top.