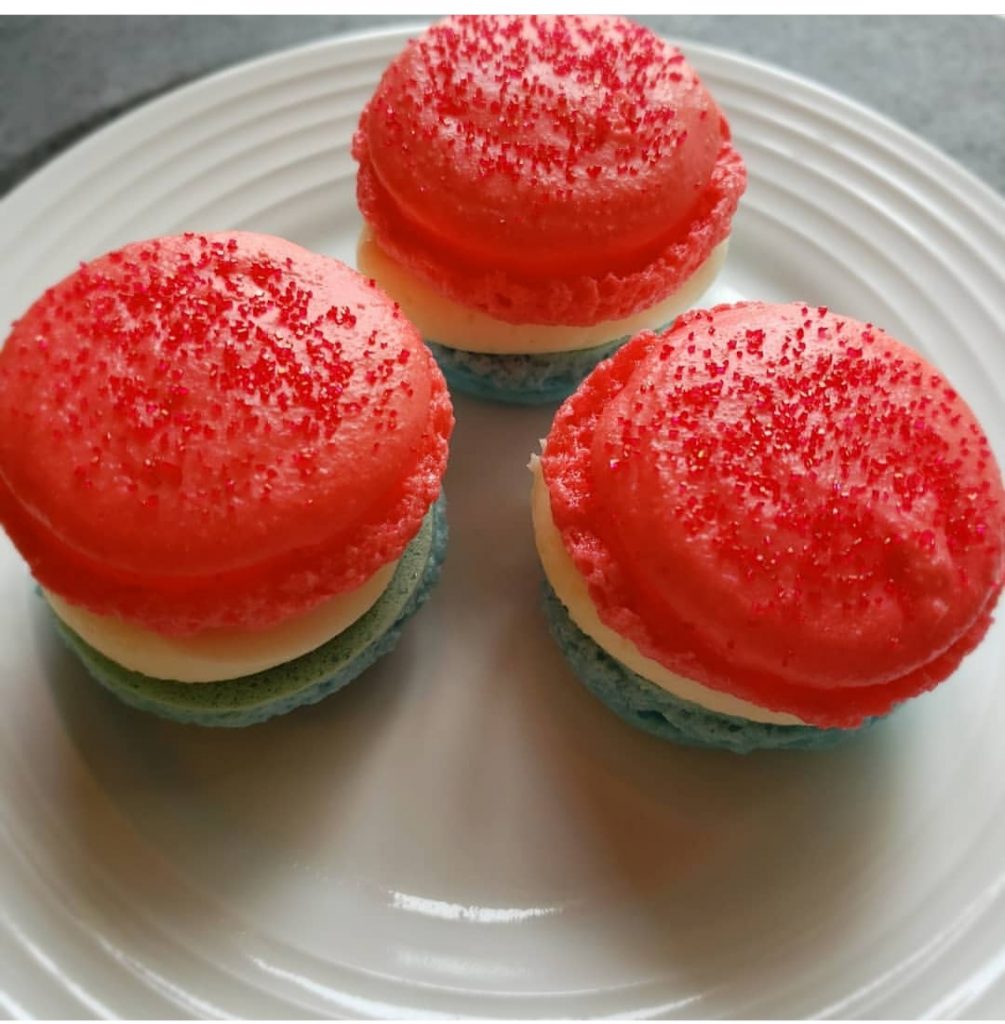 Print
Patriotic Macarons
What could be more patriotic than a red, white, and blue cookie?  This particular one features a coconut cream cheese butter cream.  You may want to make multiple batches, because these go fast!
Scale
Ingredients
For the shells:
2 cups powdered sugar
1 cup almond flour
3 egg whites, at room temperature
Pinch of salt
Pinch of cream of tartar
¼ cup sugar
Note:  I did one batch with blue food coloring and then made another batch, using the red food coloring
Filling:
4 oz cream cheese
½ cup butter, at room temperature
2 ½ cups powdered sugar
1 t coconut extract
2–3 T heavy cream
Instructions
Place the powdered sugar and almond flour in a food processor and process on low, to really break down the almond flour.  Then remove and sift the mixture through a fine mesh sieve.  Set aside.
In a stand mixer with the whisk attachment, beat the egg whites, on medium speed, with the pinch of salt and cream of tartar; until soft peaks form. Gradually add the granulated sugar until fully incorporated. Continue to beat until stiff peaks form (you should be able to turn the bowl upside down over your head, without anything falling onto you).
Fold the flour mixture into the egg whites with a rubber spatula, until the batter falls like molten lava.  Transfer to a piping bag, fitted with a round tip.  Pipe 1 inch rounds on a baking sheet fitted with parchment paper or a silpat (I prefer silpat).  Bang the baking sheet on the counter 3-4 times to release any air bubbles.  Set aside and let them sit out for at least 30 minutes, but perhaps up to an hour; until they form a nice skin and are NOT tacky when touched.
Preheat oven to 280 degrees.  Bake for 20 minutes.  Remove and let cool completely before removing from the baking sheet.  NOTE:  Ovens differ, and you may have to play with this.  My last oven baked these better at 300 degrees for 16 minutes.  It's best to test 1 or 2 first before baking an entire batch!
Make the Coconut buttercream.  Blend everything together with a  handmixer.  Place in a piping bag.  When completely cooled, place on cookie on its back and pipe buttercream onto it.  Place other cookie on top.  Complete all cookies in this manner.  Place in the fridge and cool.  I think they are best eaten 24 hours later.