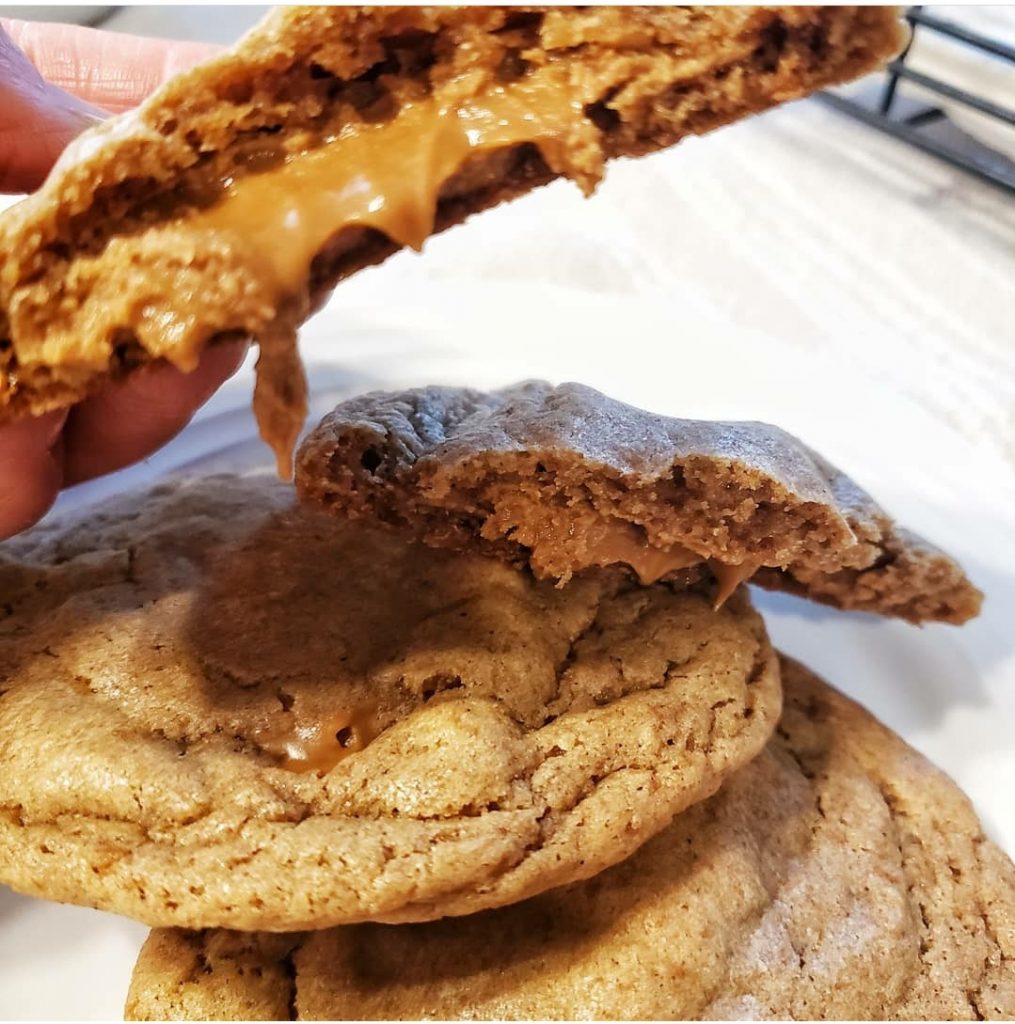 Raise your hand and give this a "like" if cookie butter and speculoos are your thing! These have biscoff cookies in the dough, and then filled with cookie butter; giving them an ooey gooey center. They were devoured around here. I'm sure they will be at your house, too!
* Sharing is totally optional…I won't tell if you keep them for yourself!
Print
Cookie Butter Filled Cookies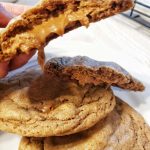 Biscoff flavored cookies with a gooey cookie butter center!
Scale
Ingredients
For the filling:
½ cup cookie butter
For the Cookies:
½ cup butter, softened
½ cup cookie butter
1 cup brown sugar
1/3 cup sugar
2 eggs
1 ½ tablespoons vanilla
16 Biscoff cookies, put through the food processor, so finely ground
1 3/4 cups flour
2 tablespoons cornstarch
2 teaspoons baking powder
1 teaspoon baking soda
1 teaspoon kosher salt
1 teaspoon ground cinnamon
Instructions
Line a baking sheet with parchment paper. Divide the cookie butter into about 1 tablespoon mounds on
the paper. Put in the freezer for 2 hours to set.
Preheat oven to 350F. Cream the butter and cookie butter together. Add the sugars and beat until well
combined. Add the eggs and vanilla; beating again. Pour in the ground biscoff, flour, cornstarch, baking
powder, baking soda, kosher salt, and cinnamon. Mix, until just combined.
Remove the frozen cookie butter balls from the freezer. Taking a large cookie scoop, measure out a
scoop of dough. Press the frozen cookie butter in the middle and work the dough around it. Place on
lined baking sheet, keeping space between the cookies.
Bake at 350F for 10 minutes. Remove and let cool. Dig in!