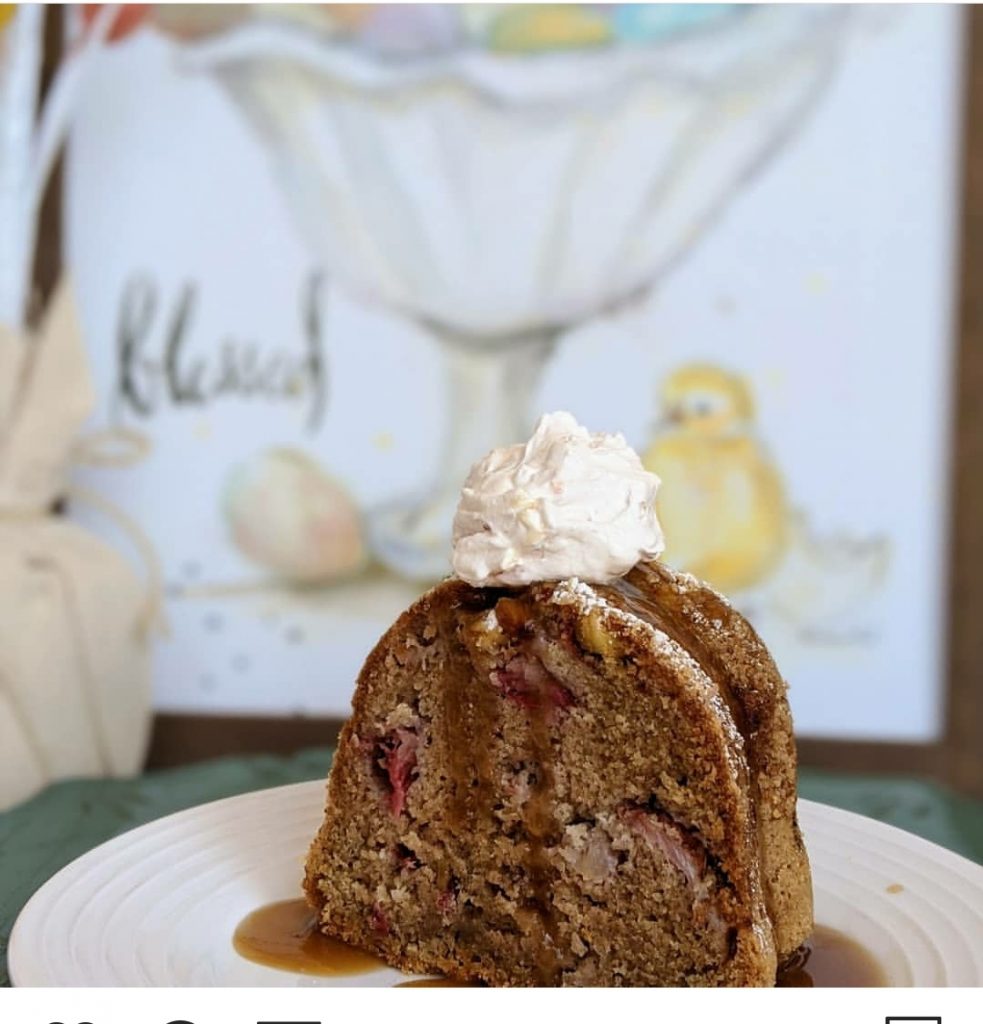 According to my family, this is the BEST cake they've ever had the pleasure to eat. It's sweet and savory, and topped with the creamiest homemade strawberry whipped cream and my special balsamic drizzle. The cake is slightly crispy on the outside and super moist on the inside.
Enjoy!
Print
Strawberry Almond Bundt Cake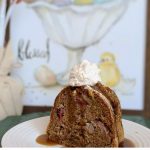 Moist bundt cake topped with homemade strawberry whipped cream.
Scale
Ingredients
Slivered almonds, or crushed almonds
2 cups sugar
1 ½ cups canola oil
2 teaspoons vanilla extract
1 teaspoon almond extract
4 large eggs room temperature
2 3/4 cups flour
¼ cup cornstarch
1 teaspoon baking soda
1 teaspoon cinnamon
1 teaspoon kosher salt
1 lb fresh strawberries, chopped
Balsamic Caramel
1/2 cup butter
1/2 cup packed brown sugar
¼ cup heavy cream
1 tablespoon balsamic vinegar
1 teaspoon vanilla extract
Strawberry Whipped Cream
1 pint heavy cream
1 teaspoon vanilla extract
½ teaspoon almond extract
¼ cup strawberry jam
Instructions
Cake:
Preheat oven to 350F. Grease a bundt pan, dust with sugar to coat. Sprinkle the slivered or crushed almonds in the
bottom and set aside.
In a stand mixer, beat sugar and canola oil until fluffy. Add the vanilla and almond extract and mix to combine. Add
the eggs, one a time, beating after each addition, until light and fluffy.
In a medium bowl, sift together the flour, cornstarch, baking soda, cinnamon, and salt. Fold it into the batter, mixing
just until combined. Pour batter into the prepared bundt pan, over the almonds, and smooth the top. Bake for 45-50
minutes, or until a toothpick comes out clean. Remove and allow to cool for 15 minutes, then remove from pan and
invert onto a plate.
Balsamic Caramel:
Heat butter and brown sugar in a saucepan. Bring to a boil, reduce to simmer, until the sugar dissolves. Reduce
heat to LOW, and add the heavy cream, balsamic vinegar, and vanilla; stirring vigorously to combine. Remove
quickly from heat and allow to sit while it thickens.
Strawberry Whipped Cream:
Combine all ingredients in a stand mixer or use an electric hand mixer. Beat until stiff peaks form.
To Serve:
Slice cake and place the slice on a plate, drizzle with the balsamic caramel, and top with a dollop of whipped cream.