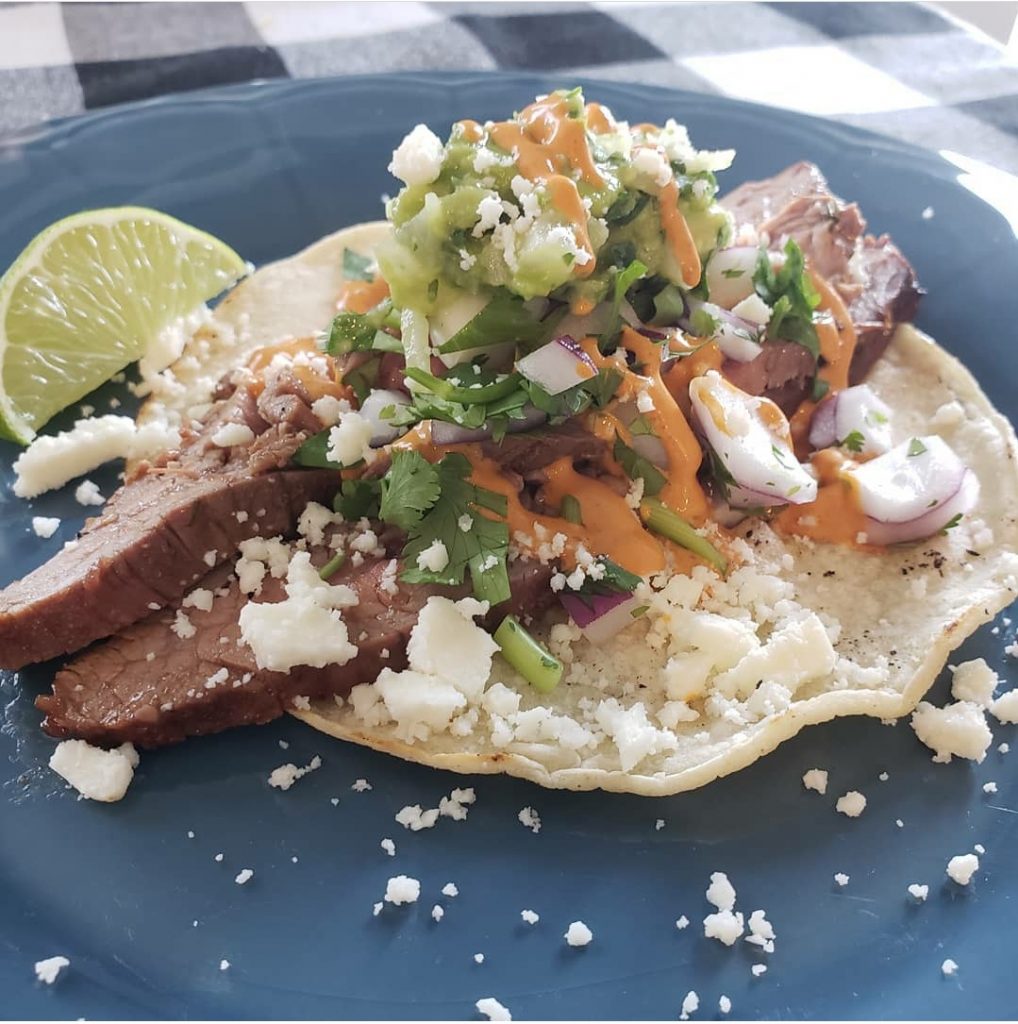 Print
Carne Asada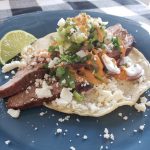 Scale
Ingredients
1/3 cup reduced sodium soy sauce
3/4 cup orange juice
2 lemons, juiced
3 limes, juiced
4 cloves garlic, minced
2–3 chipotle peppers in adobo, minced
2 tablespoons brown sugar
2 teaspoons liquid smoke
1 tablespoon cumin
2 teaspoons chili powder
1 tablespoon smoked paprika
1 teaspoon oregano
1 teaspoon onion powder
1 teaspoon coriander
½ teaspoon cayenne pepper
1 teaspoon salt
½ teaspoon black pepper
1 jalapeno, finely diced
½ cup olive oil
1 bunch cilantro, chopped
2 1/2 –3 lbs flank steak, pounded to ¼ inch thin thickness
Guacamole:
3 avocadoes, peeled and diced
1 White onion, diced
½ bunch of Cilantro, chopped
2 Serrano peppers, minced
3 tablespoons Cotija cheese, crumbled
2 limes, juiced
2 garlic cloves, minced
Kosher salt, to taste
* Toss all ingredients together, taste and adjust seasonings.
Chipotle Crema:
½ cup mayonnaise
3 chipotle peppers in adobo
2 limes, juiced
2 teaspoons honey
* Blend together in a blender. Taste and adjust seasonings. Put in a squeeze bottle for easy serving.
Cilantro/Red Onion:
½ bunch cilantro, chopped
½ red onion, diced
½ teaspoon salt
* Mix together in a bowl.
To serve:
Corn tortillas
Guacamole, see my recipe above
Cotija cheese, crumbled
Chipotle Crema, see my recipe above
Red onion/Cilantro mixture, see my recipe above
Instructions
Combine the soy sauce, orange juice, lemon juice, and lime juice in a large bowl and whisk together.
Add the garlic, chipotle peppers with their sauce, brown sugar, liquid smoke, cumin, chili powder,
smoked paprika, oregano, onion powder, coriander, cayenne pepper, salt, black pepper, and jalapeno.
Slowly whisk in the olive oil until emulsified, then add the cilantro and mix to combine. Remove 1/2 cup
of the marinade and set aside to use for serving.
Texturize the steak, by poking it all over with a fork. Add the meat to a large ziplock bag, and pour the
marinade over the meat; squeeze out the air, and turn so the meat gets evenly coated. Marinate in the
refrigerator for at least 4 hours and up to 24 hours.
Preheat an outdoor grill for medium-high – high heat, and lightly oil the grate.
Remove the steak from the marinade and grill to desired doneness, about 5 minutes per side for
medium rare. Let the meat rest for 10 minutes before slicing across the grain. Flank steak can be tough
is you don't slice it correctly.
Pour the reserved marinade over the meat and serve immediately.
To serve, char the tortillas in a dry pan or over an open flame. Top with the carne asada, guacamole, red
onion/cilantro mixture, cotija cheese, and squeeze chipotle crema over the top. ENJOY!!!